Technology'23 - Research Paper Presentation Competition 2023
Technology'23 - Research Paper Presentation Competition 2023, Top Engineers, Chennai, Tamil Nadu, 30th April 2023
Useful Links
View Event Website
Category :

Research Paper Presentation Competition

Event Type:

Venue/Offline Mode

Start Date :

30th April 2023

End Date :

30th April 2023

Location :

Chennai, Tamil Nadu

Organizer :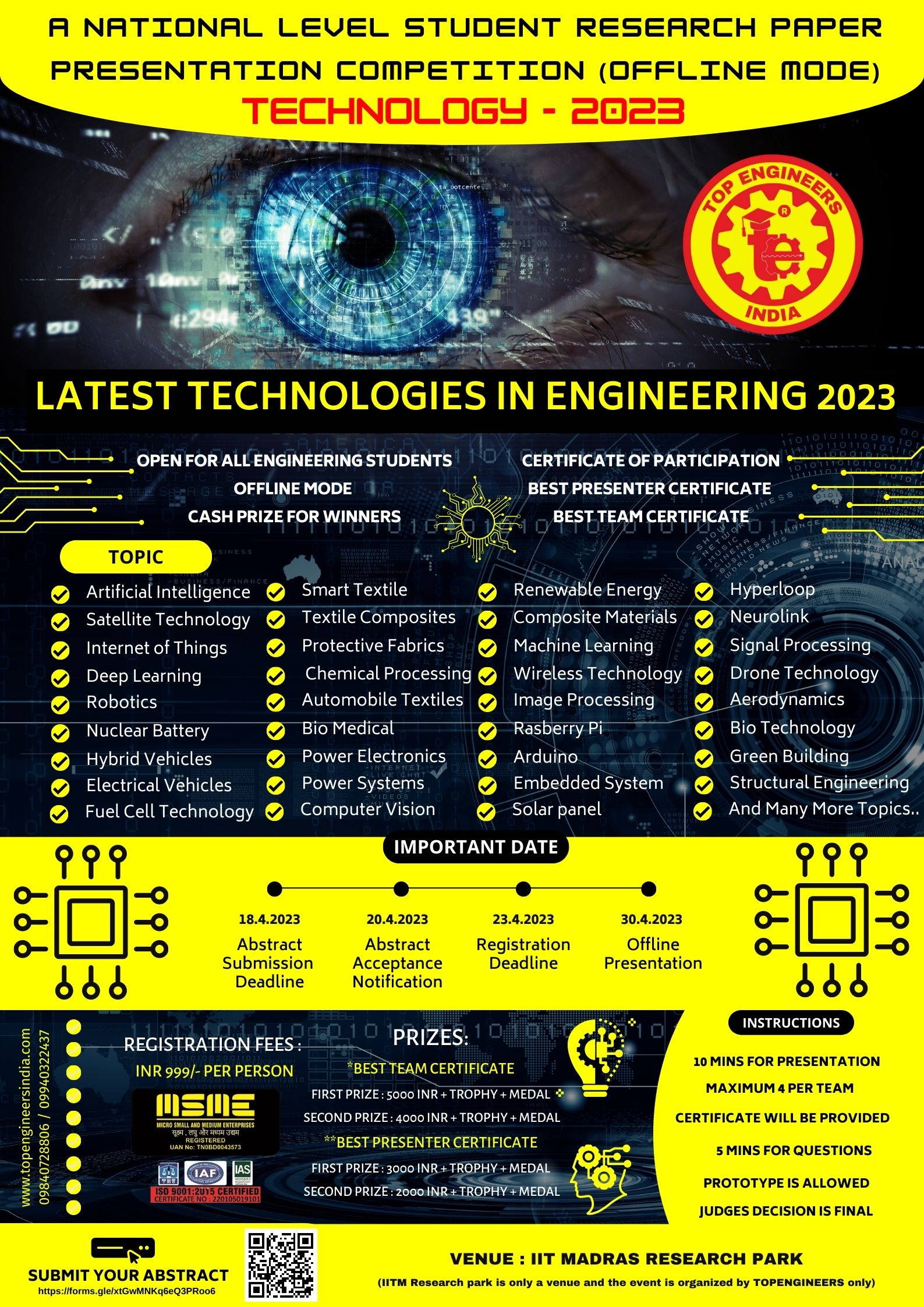 About Event
TECHNOLOGY'23 - A NATIONAL LEVEL STUDENT RESEARCH PAPER PRESENTATION COMPETITION (OFFLINE MODE)
ORGANIZED BY TOP ENGINEERS - A MIT- ANNA UNIVERSITY ALUMNI START UP [INDIA'S LEADING EDUCATIONAL SERVICE CONDUCTING FIRM]
OPEN FOR ALL ENGINEERING STUDENTS
REGISTRATION FEES : INR 999/- PER PERSON (INCLUDING LUNCH)
DATE : 30.4.2023 (SUNDAY)
VENUE : IIT MADRAS RESEARCH PARK
No.32,Kanagam Rd, Kanagam Periyar Nagar, Taramani, Chennai, Tamil Nadu 600113.
(IITM Research park is only a venue and the event is organized by TOPENGINEERS only)

CERTIFICATE FROM TOP ENGINEERS WITH ISO CERTIFIED NUMBER AND HOLOGRAM STICKER WILL BE PROVIDED WHICH WILL ADD VALUE DURING PLACEMENTS.
Events
WHATSAPP LINK: https://chat.whatsapp.com/BjdXM5VSYdh0zhFKBUtOSk

ABSTRACT SUBMISSION LINK : https://forms.gle/xtGwMNKq6eQ3PRoo6

CERTIFICATE:
1. PARTICIPATION CERTIFICATE TO ALL
2. BEST PRESENTER CERTIFICATE FOR WINNERS
3. BEST TEAM CERTIFICATE FOR WINNERS
PRIZES:
*BEST TEAM CERTIFICATE
FIRST PRIZE : 5000 INR + TROPHY + MEDAL
SECOND PRIZE : 4000 INR + TROPHY + MEDAL
**BEST PRESENTER CERTIFICATE
FIRST PRIZE : 3000 INR + TROPHY + MEDAL
SECOND PRIZE : 2000 INR + TROPHY + MEDAL
RULES:
TEAM MEMBERS - MAXIMUM UP TO 4
10 MINS FOR PRESENTATION
PROTOTYPE IS ALLOWED
JUDGE'S DECISION WILL BE FINAL
PPT Topics
PAPER PRESENTATION TOPICS:
Artificial Intelligence
Satellite Technology
Internet of Things
Deep Learning
Robotics
Nuclear Battery
Hybrid Vehicles
Electrical Vehicles
Fuel Cell Technology
Smart Textile
Textile Composites
Protective Fabrics
Chemical Processing
Automobile Textiles
Bio Medical
Power Electronics
Power Systems
Computer Vision
Renewable Energy
Composite Materials
Machine Learning
Wireless Technology
Image Processing
Rasberry Pi
Arduino
Embedded System
Solar panel
Hyperloop
Neurolink
Signal Processing
Drone Technology
Aerodynamics
Bio Technology
Green Building
Structural Engineering
And Many More Topics..
Departments:
CSE
ECE
IT
EEE
Instrumentation
Mechanical
Civil
Chemical
Agricultural
Energy
Metallurgy
Medical
Pharmacy
Arts
Industrial
BioTechnology
MBA
MCA
Commerce
Law
Telecommunication
Physics
Ocean
BioMedical
Mechanics
Textile
Aeronautical
Aerospace
Material
Mining
Automobile
Design
Marine
Ocean
Fashion
Media
BBA
Food
PolyTechnic
Accommodation
NO
How to reach Top Engineers, Chennai
VENUE : IIT MADRAS RESEARCH PARK
No.32,Kanagam Rd, Kanagam Periyar Nagar, Taramani, Chennai, Tamil Nadu 600113.
(IITM Research park is only a venue and the event is organized by TOPENGINEERS only)
Certificates will be provided to Participants
Related Links:
Technology'23 - Research Paper Presentation Competition 2023
Top Engineers
Chennai
Tamil Nadu
April 2023
Technical Fests
Technical Fests in Chennai 2023
Technical Fests in Tamil Nadu
Conclaves
Conclaves in Chennai 2023
---