The Third International Conference on Recent Challenges in Science, Engineering and Technology 2022 (ICRCSET 2022)
The Third International Conference on Recent Challenges in Science, Engineering and Technology 2022 (ICRCSET 2022), CIT, BLSDTE, IIRMSDT, Virtual International Conference, Guntur, Andhra Pradesh, 27th November 2022
Useful Links
View Event Website
Poster Link
Brochure Link
Category :

Virtual International Conference

Event Type:

Online

Start Date :

27th November 2022

End Date :

27th November 2022

Location :

Guntur, Andhra Pradesh

Organizer :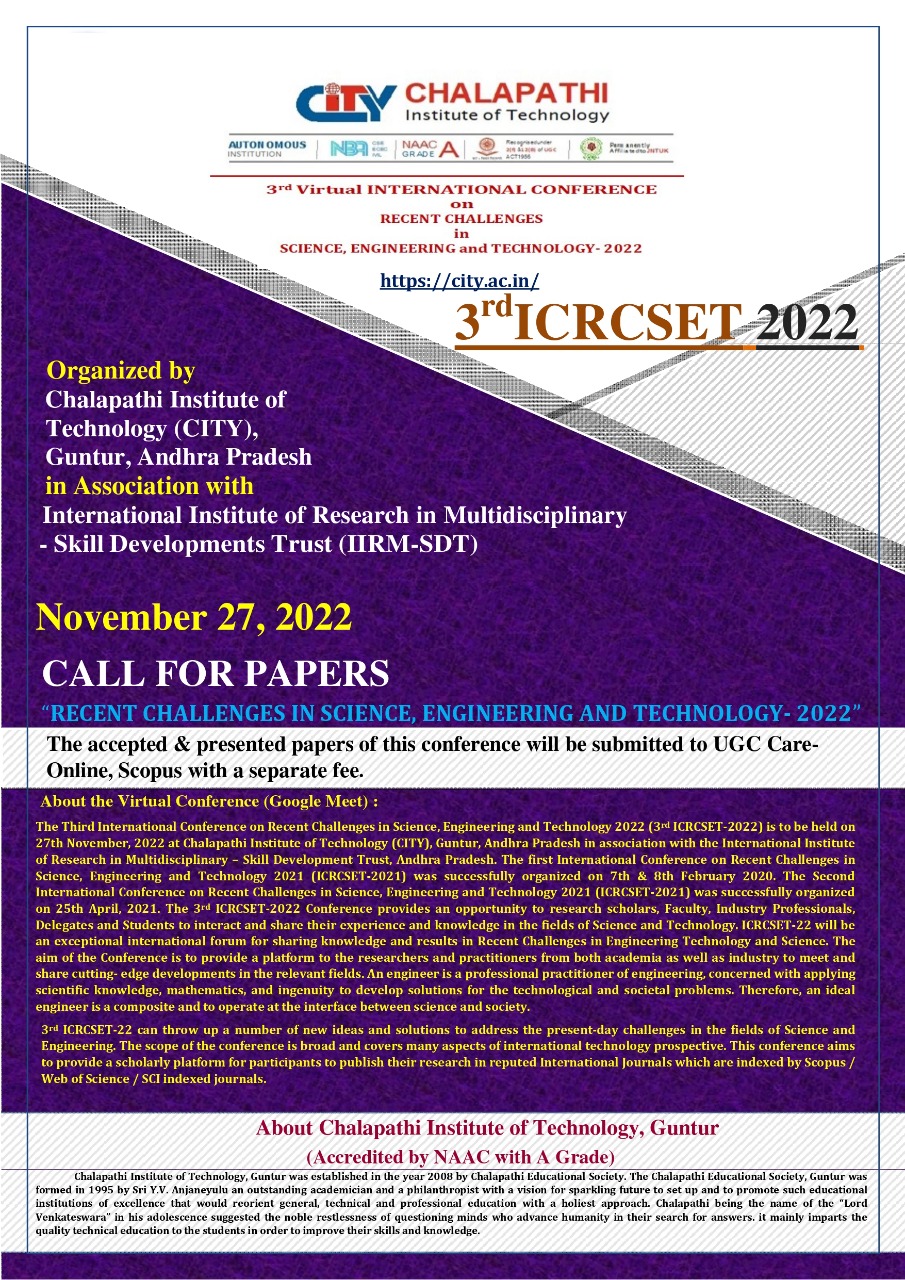 About Event
About the Virtual Conference (Google Meet)
The Third International Conference on Recent Challenges in Science, Engineering and Technology 2022 (ICRCSET-2022) is to be held on 27th November, 2022 at Chalapathi Institute of Technology (CIT), Guntur, Andhra Pradesh in association with the International Institute of Research in Multidisciplinary – Skill Development Trust, Andhra Pradesh The first International Conference on Recent Challenges in Science, Engineering and Technology 2021 (ICRCSET-2021) was successfully organized on 7th & 8th February 2021. The Conference provides an opportunity to research scholars, Faculty, Industry Professionals, Delegates and Students to interact and share their experience and knowledge in the fields of Science and Technology. ICRCSET-22 will be an exceptional international forum for sharing knowledge and results in Recent Challenges in Engineering Technology and Science. The aim of the Conference is to provide a platform to the researchers and practitioners from both academia as well as industry to meet and share cutting- edge developments in the relevant fields. An engineer is a professional practitioner of engineering, concerned with applying scientific knowledge, mathematics, and ingenuity to develop solutions for the technological and societal problems. Therefore, an ideal engineer is a composite and to operate at the interface between science and society.
3rd ICRCSET-22 can throw up a number of new ideas and solutions to address the present-day challenges in the fields of Science and Engineering. The scope of the conference is broad and covers many aspects of international technology prospective. This conference aims to provide a scholarly platform for participants to publish their research in reputed International Journals which are indexed by Scopus / Web of Science / SCI indexed journals.
About Chalapathi Institute of Technology, Guntur
(Accredited by NAAC with A Grade)
Download Brochure: 3RD ICRCSET-2022
Chalapathi Institute of Technology, Guntur was established in the year 2008 by Chalapathi Educational Society. The Chalapathi Educational Society, Guntur was formed in 1995 by Sri Y.V. Anjaneyulu an outstanding academician and a philanthropist with a vision for sparkling future to set up and to promote such educational institutions of excellence that would reorient general, technical and professional education with a holiest approach. Chalapathi being the name of the "Lord Venkateswara" in his adolescence suggested the noble restlessness of questioning minds who advance humanity in their search for answers. it mainly imparts the quality technical education to the students in order to improve their skills and knowledge.
REGISTRATION LINK : https://forms.gle/Soak6qNZm22aP6kz8
After registration, Please submit your screenshot of the payment and article to the following E-Mail:
papers.iirmsdt@gmail.com

OUR MEDIA PARTNERS
http://www.knowafest.com/college-fests/events
Events
Technical Paper Presentation
PPT Topics
Multidisciplinary- All subjects and concepts
Event Guests
Dr.MOORAMREDDY SREEDEVI,
Associate Professor,
Dept.of Computer Science,
S.V.University, Tirupati.
Event Caption
Swapping Research Ideas
Event Theme
Innovative thoughts
Departments:
CSE
ECE
IT
EEE
Instrumentation
Mechanical
Civil
Chemical
Agricultural
Energy
Metallurgy
Pharmacy
Industrial
BioTechnology
MBA
MCA
Telecommunication
Physics
Ocean
Mechanics
Textile
Aeronautical
Aerospace
Material
Mining
Automobile
Design
Marine
Ocean
Fashion
Media
BBA
Food
How to reach CIT, BLSDTE, IIRMSDT, Guntur
Digital Conference
Download Brochure: 3RD ICRCSET-2022
Certificates will be provided to Participants
Related Links:
The Third International Conference on Recent Challenges in Science
Engineering and Technology 2022 (ICRCSET 2022)
CIT
BLSDTE
IIRMSDT
Guntur
Andhra Pradesh
November 2022
Conferences
Conferences in Guntur 2022
Conferences in Andhra Pradesh
---