Eleventh National Conference on Innovations in Information Technology NCIIT 2022
Eleventh National Conference on Innovations in Information Technology NCIIT 2022, Bannari Amman Institute of Technology, National Conference, Erode, Tamil Nadu, 20th - 21st May 2022
Category :

National Conference

Event Type:

Offline and Online Mode

Start Date :

20th May 2022

End Date :

21st May 2022

Location :

Erode, Tamil Nadu

Organizer :
---
Useful Links
View Event Website
Brochure Link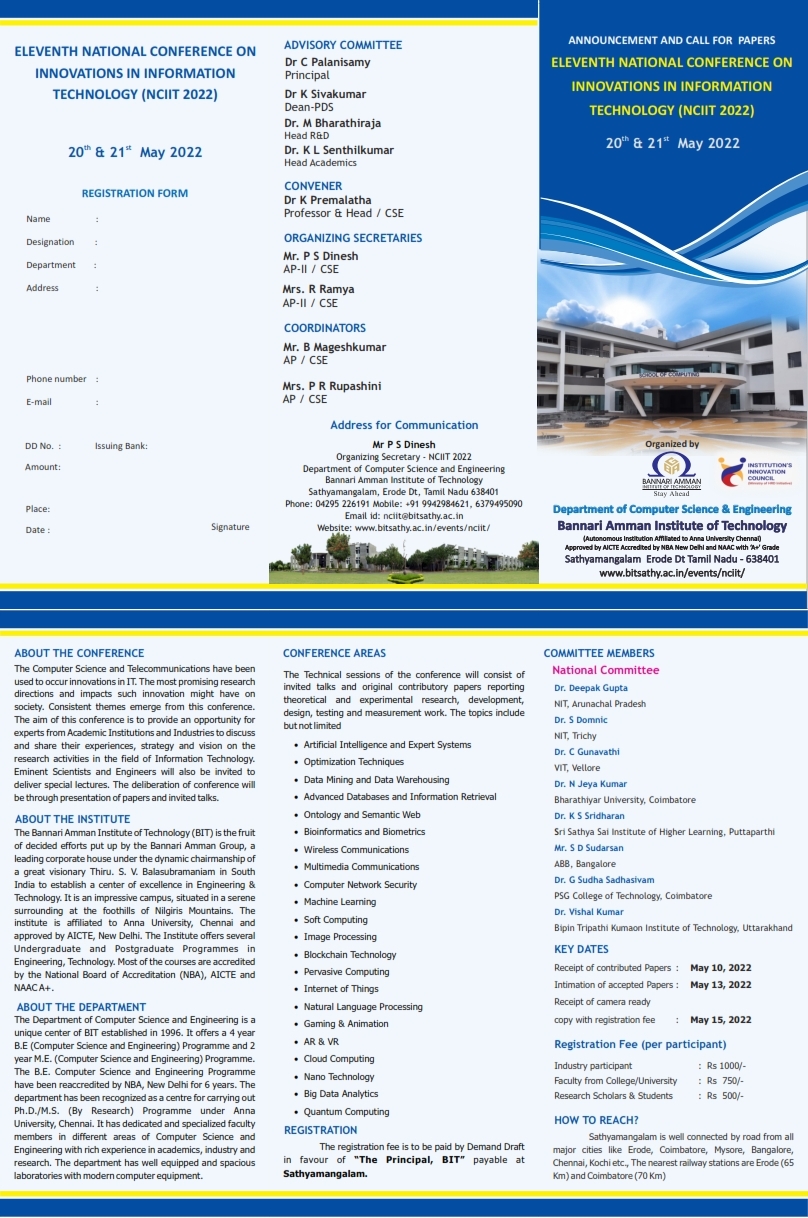 About Event
Computer Science and Telecommunications have been used to occur innovations in IT. The most promising research directions and impacts such innovation might have on society. Consistent themes emerge from this conference. The aim of this conference is to provide an opportunity for experts from Academic Institutions and Industries to discuss and share their experiences, strategy, and vision on the research activities in the field of Information Technology. Eminent Scientists and Engineers will also be invited to deliver special lectures. The deliberation of the conference will be through the presentation of papers and invited talks.
Events
1. To facilitate interaction and knowledge exchange among academia, research organizations, and industry.
2. To deliberate on new paradigms of computing, cybernetics, and intelligent systems developing international information processing infrastructures.
3. To identify key research findings and propose new applications development.
4. To share prospective research areas and form specific research communities.
5. To publish state-of-the-art technical reports and a set of recommendations for Business, Industry, and Government sectors
PPT Topics
1. Artificial Intelligence and Expert Systems.
2. Optimization Techniques.
3. Data Mining and Data Warehousing.
4. Big Data Analytics.
5. Advanced Databases and Information Retrieval.
6. Bioinformatics and Biometrics.
7. Wireless Communications.
8. Computer Network Security.
9. Adhoc and Sensor Networks.
10. Soft Computing.
11. Image Processing.
12. Embedded and Real-Time systems Natural Language Processing.
13. Distributed Computing.
14. Cloud computing.
15. Nano Technology.
16. Internet of Things.
17. Virtual and Augmented reality.
18. Blockchain Technology.
Departments:
CSE
ECE
IT
EEE
Instrumentation
Mechanical
Agricultural
Medical
Industrial
BioTechnology
MCA
Telecommunication
BioMedical
Mechanics
Aeronautical
Aerospace
Automobile
Design
Accommodation
Bannari Amman Institute of Technology
Sathyamangalam
Erode
How to reach Bannari Amman Institute of Technology, Erode
Alathukombai - Post Sathyamangalam - 638 401 Erode District, Tamil Nadu, India
Certificates will be provided to Participants
Related Links:
Eleventh National Conference on Innovations in Information Technology NCIIT 2022
Bannari Amman Institute of Technology
Erode
Tamil Nadu
May 2022
Conferences
Conferences in Erode 2022
Conferences in Tamil Nadu
---