CURA 2022, NIT Warangal, Management Fest, Warangal, Telangana, 25th - 26th March 2022
Useful Links
View Event Website
Poster Link
Category :

Management Fest

Event Type:

Online

Start Date :

25th March 2022

End Date :

26th March 2022

Location :

Warangal, Telangana

Organizer :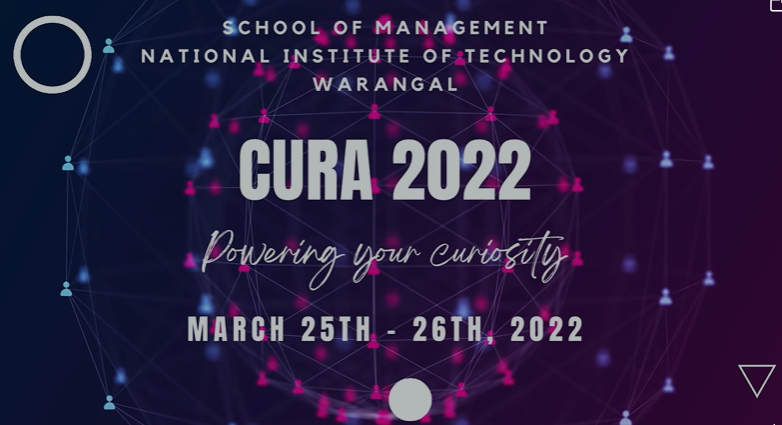 About Event
"CURA" is a significant national management fest organized by students from the School of Management, National Institute of Technology, Warangal, to inspire aspiring managers from various B-schools across the country to develop and demonstrate their varied talents. "CURA" is a Latin word that means "thoughtfulness," and it is poised to bring out the latent strategic mindset of budding managers to sustain in today's challenging business scenario.
Events
HRiDAY:
This is for the one who has a knack for Human Resource subjects and is keen to experience a glimpse of what this subject is all about. This event gives you a platform to showcase your passion towards this domain and also an opportunity to enrich your knowledge. Well, don't wait for it and grab this chance and participate in this challenge. Play it hard, be one of the top 3 champions and win the most exciting prizes.

QUIZZARDS:
Kaun Banega Crorepati? Well, not Crorepati but we can make you Hazarpati. On a serious note, if you know what is happening around the world, then you are at the right place. With world we mean Business, Sports, Entertainment, Current Affairs, History and basic General Knowledge. Show your mettle in this event and surely no one can stop you from being a Hazarpati.

FOR THE MOTION:
We are looking for diplomats with good writing and oratory skills, if you think you are the right candidate, then why wait? Get along with us in this event and show your power of influence.

Dragon's Den SOM
What an Idea Sir Ji! Well, this sounds familiar, right? It does, and if you want your idea to be called What an Idea Sir Ji! Your team can be a pioneer of a billion dollar business in the future, for a reality check we give you an opportunity to test your ideas.

Manage Yourself:
We have got some problems that need your attention. If that solution seems to be feasible then, the next problem will be, how will you spend your prize money. Join in this marketing, leadership event and give the answers for the questions around you.

Writer's hub:
A Pen is mightier than a Sword. Draw your pens and spill your thoughts on a paper. We like you to use your analytical skills as well as your creativity to win this battle of the writers. PS: The Winter is Coming.

Pictography
To lead a creative life, we must lose the fear of being wrong. Express yourself and get a chance to lose all your fears and reach the world beyond. The more clearly you express yourself, the higher are the chances to win.

Finwiz
Want to start a company? Then you should be aware of the calculations of ERP and budgeting for it. Imagine your own company and perform calculations for it, and the most efficient team with the more viable numbers shall be the star of the day.

Beat The Street
Ishq Hai To Risk Hai! Want to be the king of the stock market? We have got a practice ground for you, before you go into the battlefield. Experience the essence of the Indian Stock Market and be prepared for the real world.

Researcher's Diary
Innovation is the new energy source of this ever growing world. You are now a part of this world, and we invite you to think and write about your innovative ideas and make this world a better place.
Workshops
Digital Marketing
PPT Topics
Advertising
Business Planning
Business Planning Guides
Business Structure
Customer Service
E-Commerce
Employment Issues
Energy Topics
Financial Management
Integrating Business and Family
Inventory Control
Insurance
Legal Issues
Marketing
Market Research
Merchandising
Packaging
Pricing
Record Keeping
Risk Management
Self-Employment Assessment
Social Media
Taxes
Time Management
Event Caption
Powering your curiosity
Event Theme
Thoughtfulness
Departments:
ECE
EEE
Instrumentation
Mechanical
Energy
Arts
Industrial
MBA
MCA
Commerce
Telecommunication
Automobile
Design
Fashion
Media
BBA
How to reach NIT Warangal
National Institute of Technology, Warangal - 506004, A.P, INDIA
Certificates will be provided to Participants
Related Links:
CURA 2022
NIT Warangal
NITs
Warangal
Telangana
March 2022
Management Fests
Management Fests in Warangal 2022
Management Fests in Telangana
---