IMI MUN 2022, International Management Institute Delhi, Model United Nations, New Delhi, Delhi, 8th - 9th January 2022
Category :

Model United Nations

Event Type:

Online

Start Date :

8th January 2022

End Date :

9th January 2022

Location :

New Delhi, Delhi

Organizer :
---
Useful Links
View Event Website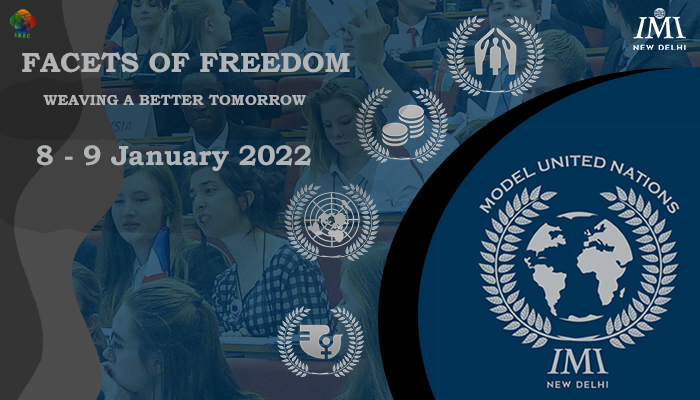 About Event
A Model United Nations (MUN) is a simulated United Nations conference in which students aim to solve an international issue via research, drafting, lobbying and discoursing to pass a feasible 'resolution'. In addition to engaging students, the conference encourages their understanding of pivotal global issues and develops their critical thinking, teamwork, and leadership abilities.

Students take on the roles of delegates, speakers and chairs while representing various nations and put forth their views and solutions in collaboration with other students in the hundreds of international MUN's held every year.

IMI MUN is the Model United Nations organized by the International Relations and Executive Education Committee (IREC) at International Management Institute, New Delhi. IREC has successfully organized MUNs from 2017 to 2021, attracting numerous students from all around the country as well as other parts of the world.

It is presently set out on its 2022 release.

IMI MUN provides an excellent forum for students to express their opinions on significant international concerns. This simulation allows participants to put themselves in the shoes of world leaders, understand the challenges that they face, and become acquainted with the various viewpoints that are presented during the discourse.

The theme for IMI MUN 2022 is "Facets of Freedom - Weaving a Better Tomorrow". In the contemporary era, "freedom" takes a myriad of definitions, ranging for individuals from all walks of life. In the pursuit of gaining an insight into this variance, the facets of freedom in the political, social, cultural and economic contexts prove fruitful. Non-state actors are now more involved than ever in human rights issues because of the shift in sovereignty that has accompanied globalization. This trend poses a challenge to international human rights law, which was primarily created to prevent abuses by powerful nations and their agents. While globalization has improved civil society's ability to work across borders and promote human rights, it has also given other actors the power to violate human rights in the form of unprecedented attack vectors.

The committees and their agendas as are follows:
1. UNSC (Agenda: Curbing turmoil - Stemming armed conflict in war-ridden nations)
2. ECOFIN (Agenda: None left behind - Reforming International Financial System)
3. UNHCR (Agenda: Adjudicated Asylum - Refugee crises and immigrant labour rights)
4. UNCSW (Agenda: Women's Empowerment - Access to Public Services and Gender Equitability in the Workplace)
Events
Proceedings are as follows:
1. Roll Call
2. Speaker's List
3. Caucus
4. Voting on Resolutions
5. Resolutions Passed
Event Guests
Honourable Surjith Karthikeyan, Deputy Secretary, Government of India at the Indian Ministry of Finance and Honourable Sanjay Awasthi, Head of the International Organization for Migration
Event Theme
Facets of Freedom - Weaving a Better Tomorrow
Departments:
CSE
ECE
IT
EEE
Instrumentation
Mechanical
Civil
Chemical
Agricultural
Energy
Metallurgy
Medical
Pharmacy
Arts
Industrial
BioTechnology
MBA
MCA
Commerce
Law
Telecommunication
Physics
Ocean
BioMedical
Mechanics
Textile
Aeronautical
Aerospace
Material
Mining
Automobile
Design
Marine
Ocean
Fashion
Media
BBA
Food
How to reach International Management Institute Delhi, New Delhi
It is an online event.
Certificates will be provided to Participants
Related Links:
IMI MUN 2022
International Management Institute Delhi
New Delhi
Delhi
January 2022
Model United Nations Events
Model United Nations Events in New Delhi 2022
---