PUNE START UP FEST 19, College of Engineering Pune, Pune, Maharashtra, 23rd - 24th February 2019
Registrations Closed
View Event Website
Event Type:

Venue/Offline Mode

Start Date :

23rd February 2019

End Date :

24th February 2019

Location :

Pune, Maharashtra

Organizer :

Category :

START UP FEST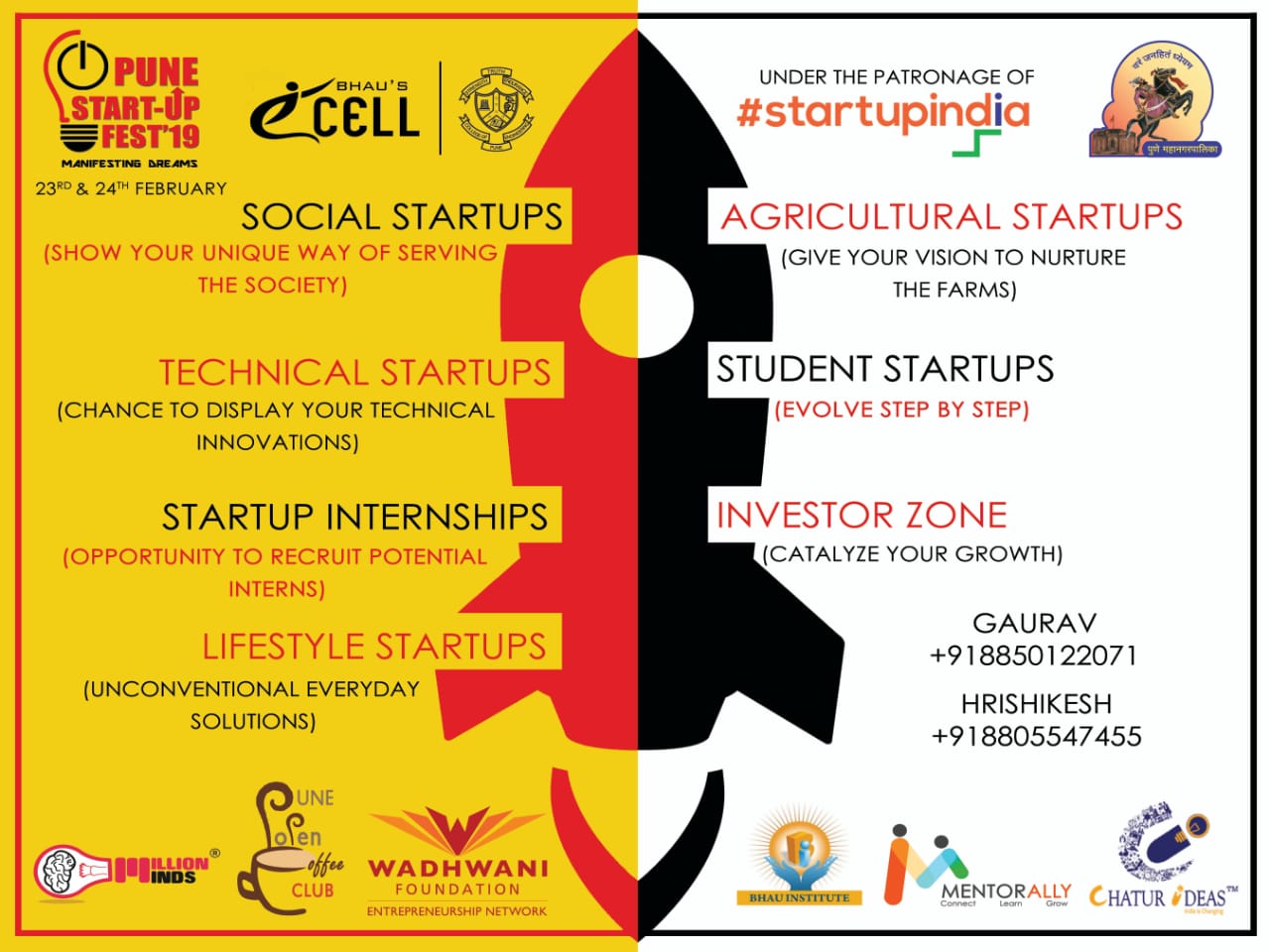 About Event
College of Engineering, Pune (COEP) is the third oldest engineering college in Asia. It is an autonomous institute, ranked among the top engineering colleges in the country.

Pune Startup Fest'19 under the patronage of Startup India and in association with Pune Muncipal Corporation is COEP's annual Entrepreneurship initiative. The festival aims at using progressing Entrepreneurship skills to foster the growth of societies through its theme "Manifesting Dreams".This year we will host the START-UP EXPO. Various Startups from all over the country will portray their innovative ideas.With Support of Bhau Institute of Innovation, Entrepreneurship & Leadership we aim at making changes in today's world.

Pune Startup Fest provides startup with benefits as follows :

> Networking with influential investors
> Interaction with the brightest minds of other startups
> Meeting VP's from all over the country
> Gain recognition of your product/service among people
> Mentoring sessions
Pune StartUp Fest has 7 major zones:
1. Technical Zone
Google's founders Larry Page & Sergey Brin transformed the way we look at the internet today. Companies develop new technologies that satisfy the demands of consumers and businesses, or integrate existing technologies creatively and innovatively. This zone is dedicated to such startups.
2. Social Zone
Social entrepreneurs combine commerce and social issues in a way that improves the lives of people connected to the cause. They don't measure their success in terms of profit alone – success to social entrepreneurs means that they have improved the world, however they define that.  
3. Agriculture Zone
The Agriculture Industry employs about 40 percent of the world population. This sector is influencing many entrepreneurs and is creating a wave of Agri-Tech based startups.
    
4. Lifestyle Zone
Unconventional solutions to everyday problems. Innovation to sustain livehood. A quick fix or tweak that can ease lives of various individual. Everyone wants a healthy hassle free life, these startups will make it the perfect enabler.
5. Student Startups
Bill Gates. Mark Zuckerberg. They're self made billionaires who made their fortunes in tech and they started their businesses while they were still students. There are no boundaries to being an entrepreneur, but they never stopped believing in themselves.  
6. Startup Internship
Working for a Startup can be more valuable than a Fortune100 company. A student with little proficiency might end up bagging the Internship which will add value to their career at a very early stage. Interns bring in a lot of energy and are more competitive than a regular hire at times. 
 
7. Investor Zone
Startups need a catalyst to accelerate their development. Seed investment, Angel Funding, Connections, Mentorship are much needed attributes from an Investor. They support as a backbone to the entrepreneur.
We also have dedicated mentors who will guide students who just have an idea and don't know how to proceed further.
We are conducting the following events for students: 
1. Shishya
Want a chance to get recognition and feature in  a leading newspaper? Come to Pune StartUp Fest and make a report describing the event. Exclusively for School Students.
2. BidMaster:
Have you ever dreamt of having your own IPL team? Have you ever thought your favourite player should be in your favourite team? Get a chance to build your own team in this virtual IPL auction!
3. BullRun:
A single news can send ripples through the stock market. Feel the rush of the stock market in this stock market simulating game!
4. BudgeIt:
All of us love music concerts. But what does it take to actually organize one? Test your statistics skills in BudgeIt where you have to come up with a budget for your own concert
5. Inquizate:
Is business your thing?
Do you think you know everything about the business community? Well think again in this quiz exclusively based on the business community!
Events
ZONES :
1. SOCIAL ZONE
2. TECHNICAL ZONE
3. AGRICULTURAL ZONE
4. STUDENT STARTUP ZONE
5. STUDENT INTERNSHIP ZONE
6. INVESTOR ZONE
7. LIFESTYLE ZONE
Event Theme
Mainfesting Dreams
Departments:
CSE
ECE
IT
EEE
Civil
Chemical
Agricultural
Medical
Pharmacy
Arts
BioTechnology
MBA
MCA
Commerce
Law
BioMedical
Mechanics
Aeronautical
Aerospace
Design
Fashion
Media
BBA
How to reach College of Engineering Pune
Bhau Building, College of Engineering, Wellesley Road, Shivajinagar, Pune, Maharashtra 411005
Related Links:
PUNE START UP FEST 19
College of Engineering Pune
Pune
Maharashtra
February 2019
Entrepreneurship Summit Events
Entrepreneurship Summit Events in Pune
---