international Conference on Recent Trends in Computer Science and Engineering ICRTCSE 2023 Blended Mode
international Conference on Recent Trends in Computer Science and Engineering ICRTCSE 2023 Blended Mode, St Anns College of Engineering and Technology, Virtual International Conference, Chirala, Andhra Pradesh, 19th - 20th February 2023
Category :

Virtual International Conference

Event Type:

Online

Start Date :

19th February 2023

End Date :

20th February 2023

Location :

Chirala, Andhra Pradesh

Organizer :
---
Useful Links
View Event Website
Poster Link
Brochure Link
Email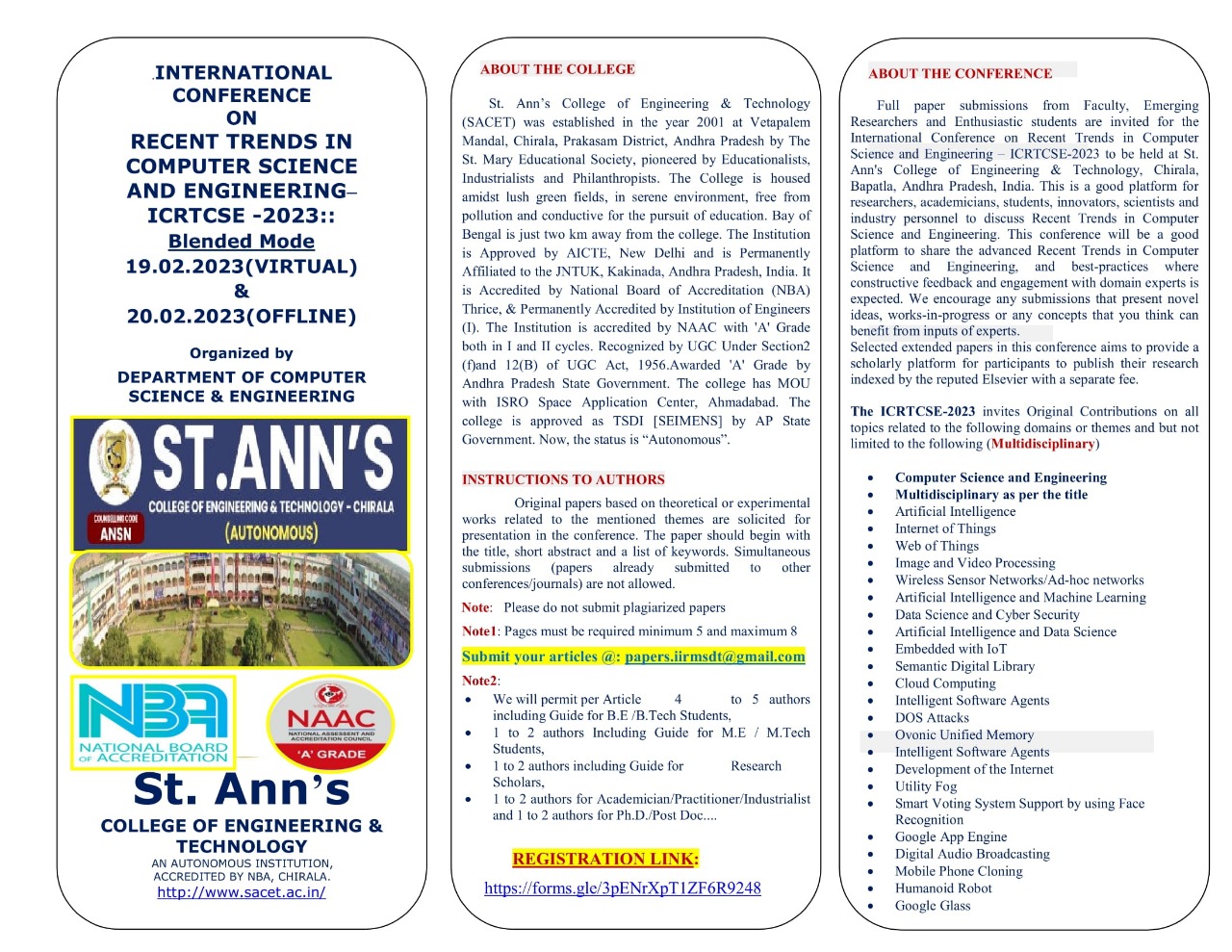 About Event
Dear Authors!

ABOUT VIRTUAL CONFERENCE (GOOGLE MEET)
Full paper submissions from Faculty, Emerging Researchers and Enthusiastic students are invited for the International Conference on Recent Trends in Computer Science and Engineering – ICRTCSE-2023 to be held at St. Ann's College of Engineering & Technology, Chirala, Bapatla, Andhra Pradesh, India. This is a good platform for researchers, academicians, students, innovators, scientists and industry personnel to discuss Recent Trends in Computer Science and Engineering. This conference will be a good platform to share the advanced Recent Trends in Computer Science and Engineering, and best-practices where constructive feedback and engagement with domain experts is expected. We encourage any submissions that present novel ideas, works-in-progress or any concepts that you think can
benefit from inputs of experts. Selected extended papers in this conference aims to provide a
scholarly platform for participants to publish their research indexed by the reputed Elsevier with a separate fee.

The ICRTCSE-2023 invites Original Contributions on all topics related to the following domains or themes and but not limited to the following (Multidisciplinary)
Events
Technical Paper Presentation
PPT Topics
THEMES OF THE CONFERENCE
(Multidisciplinary)
 Computer Science and Engineering
 Multidisciplinary as per the title
 Artificial Intelligence
 Internet of Things
 Web of Things
 Image and Video Processing
 Wireless Sensor Networks/Ad-hoc networks
 Artificial Intelligence and Machine Learning
 Data Science and Cyber Security
 Artificial Intelligence and Data Science
 Embedded with IoT
 Semantic Digital Library
 Cloud Computing
 Intelligent Software Agents
 DOS Attacks
 Ovonic Unified Memory
 Intelligent Software Agents
 Development of the Internet
 Utility Fog
 Smart Voting System Support by using Face Recognition
 Google App Engine
 Digital Audio Broadcasting
 Mobile Phone Cloning
 Humanoid Robot
 Google Glass
Event Guests
Dr. M. Sreedevi
Associate Professor, Dept. of Computer Science,
S.V University, Tirupati, Andhra Pradesh
Event Caption
Research Ideas on Recent Trends
Event Theme
Swapping Ideas
Departments:
CSE
ECE
IT
EEE
Instrumentation
Mechanical
Civil
Chemical
Agricultural
Energy
Metallurgy
Industrial
BioTechnology
MCA
Telecommunication
Ocean
Mechanics
Aeronautical
Aerospace
Mining
Automobile
Design
Marine
Ocean
Fashion
Accommodation
Blended Mode
Contact Details
8500980990, 9390780240, 9030790580
Last Dates for Registration
IMPORTANTDATES
Author Registrations Starts : 11.01.2023
Registration Deadline : 17.02.2023
Paper Submission Deadline : 18.02.2023
Conference Dates :19.02.2023(Virtual)
& 20.02.2023(Offline)
Registration Fees
REGISTRATION FEE
Note 1: Through Conference, Research Articles will be
published in various Scopus, Web of Science, UGC
Care, and SCI Journals with a separate fee.
Note 2: Per Article, Registration Fee for B.Tech:1600/-
, M.Tech:2100/-. & Research Scholar:2400/-
Note 3:Per Article Registration fee Academician
/Practitioner/ Industrialist: 1800/- only and for
Ph.D./Post Doc.: 2100/-
Note 4: For Foreigners, 150 Dollars.
Note 5: Hard Copy of Conference Certificates,
Membership Certificates, and proceedings will be
posted to your postal address with a separate fee: 700/-
Note 6: Please submit your article in word format as
per the IEEE Format.
How to reach St Anns College of Engineering and Technology, Chirala
Blended Mode
Event Sponsors in Chirala
SACET,BLSDTE,IIRM-SDT
Certificates will be provided to Participants
Related Links:
international Conference on Recent Trends in Computer Science and Engineering ICRTCSE 2023 Blended Mode
St Anns College of Engineering and Technology
Chirala
Andhra Pradesh
February 2023
Conferences
Conferences in Chirala 2023
Conferences in Andhra Pradesh
---