International Conference on Advances in Engineering and Web of Things ICAEWoT 2022
International Conference on Advances in Engineering and Web of Things ICAEWoT 2022, National Institute of Computing, Virtual International Conference, Bengaluru, Karnataka, 4th December 2022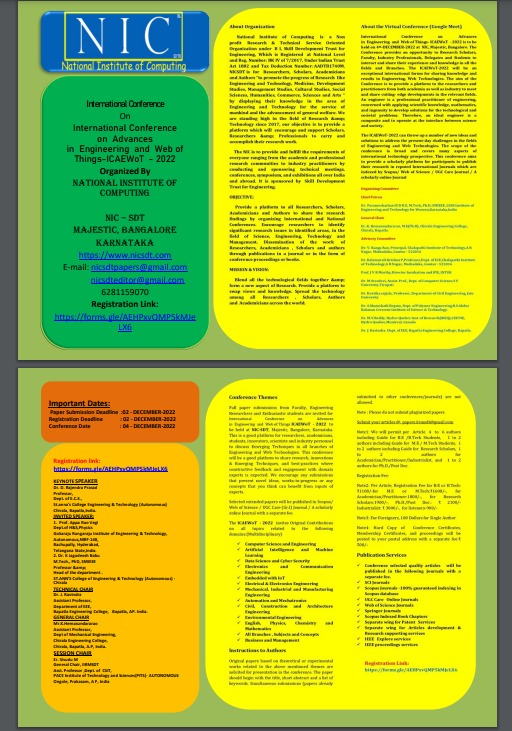 About Event
International Conference on Advances in Engineering and Web of Things-ICAEWoT-2022::Date:04-DECEMBER-2022::Google Meet. The Conference will be organized Digitally. The Object of the ICAEWoT-2022 is to present the Emerging Techniques in Engineering and Web Things -All Branches: Engineering, Science & Technology, Pharmacy, Management. The organizing committee of the conference is pleased to invite prospective authors to submit their original manuscripts to the ICAEWoT-2022. All full paper submissions will be peer-reviewed and evaluated based on originality, technical and/or research content/depth, correctness, relevance to conference, contributions, and readability. Paper-ID will be provided to each paper for further reference after selecting it.

Registration Form Link : https://forms.gle/AEHPxvQMP5kMJeLX6

HIGHLIGHTS:

* **** Conference Quality Articles will be published in Unpaid (Free) Journals - indexed in Google Scholar *****

* Best Presentation Award
* Best Paper Award
* Conference Proceedings with ISBN
* All Co-Authors should get E-Certificates & E-Proceedings
- We provide Life Time Professional Member Ship to all Registered authors & co-authors
- Conference E-Proceedings will be uploaded to our website
- Registered Articles's Paper-IDs will be uploaded on our website as per the allotted "Paper ID"
Note: We will permit per Article 4 to 6 authors including Guide for B.E /B.Tech Students, 1 to 2 authors including Guide for M.E / M.Tech Students, 1 to 2 authors including Guide for Research Scholars, 1 to 2 authors for Academician/Practitioner/Industrialist, and 1 to 2 authors for Ph.D./Post Doc.
Events
Technical Paper Presentation
PPT Topics
Scope: Multidisciplinary
Event Guests
KEYNOTE SPEAKER

Dr. D. Rajendra Prasad

Professor,

Dept. of E.C.E.,

St. Anna's College Engineering & Technology (Autonomous)

Chirala, Bapatla, India.

INVITED SPEAKER:

1. Prof. Appa Rao Vegi

Dept.of H&S, Physics

Gokaraju Rangaraju Institute of Engineering & Technology,

Autonomous,NIRF-148,

Bachupally, Hyderabad,

Telangana State,India.

2. Dr. K Jagadeesh Babu

M.Tech., PhD, SMIEEE

Professor & Head of the department .

ST.ANN'S College of Engineering & Technology (Autonomous) - Chirala

TECHNICAL CHAIR

Dr. J. Ravindra

Assistant Professor,

Department of EEE,

Bapatla Engineering College, Bapatla, AP. India.

GENERAL CHAIR

Mr.K.Hemasundararao

Assistant Professor,

Dept of Mechanical Engineering,

Chirala Engineering College,

Chirala, Bapatla, A.P, India.

SESSION CHAIR

Er. Sivudu M

General Chair, IIRMSDT

Asst. Professor ,Dept. of CSIT,

PACE Institute of Technology and Sciences(PITS)- AUTONOMOUS

Ongole, Prakasam, A P, India
Event Caption
Swapping ideas on Engineering and WoT
Event Theme
Swapping Innovative thoughts
Departments:
CSE
ECE
IT
EEE
Instrumentation
Mechanical
Civil
Chemical
Agricultural
Energy
Metallurgy
Medical
Pharmacy
Arts
Industrial
BioTechnology
MBA
MCA
Commerce
Law
Telecommunication
Physics
Ocean
BioMedical
Mechanics
Textile
Aeronautical
Aerospace
Material
Mining
Automobile
Design
Marine
Ocean
Fashion
Media
BBA
Food
Certificates will be provided to Participants
Related Links:
International Conference on Advances in Engineering and Web of Things ICAEWoT 2022
National Institute of Computing
Bengaluru
Karnataka
December 2022
Conferences
Conferences in Bengaluru 2022
Conferences in Karnataka
---