SYNECTICS' 22, Nandha Engineering College Autonomous, Technical Symposium, Erode, Tamil Nadu, 23rd - 25th November 2022
Useful Links
View Event Website
Category :

Technical Symposium

Event Type:

Venue/Offline Mode

Start Date :

23rd November 2022

End Date :

25th November 2022

Location :

Erode, Tamil Nadu

Organizer :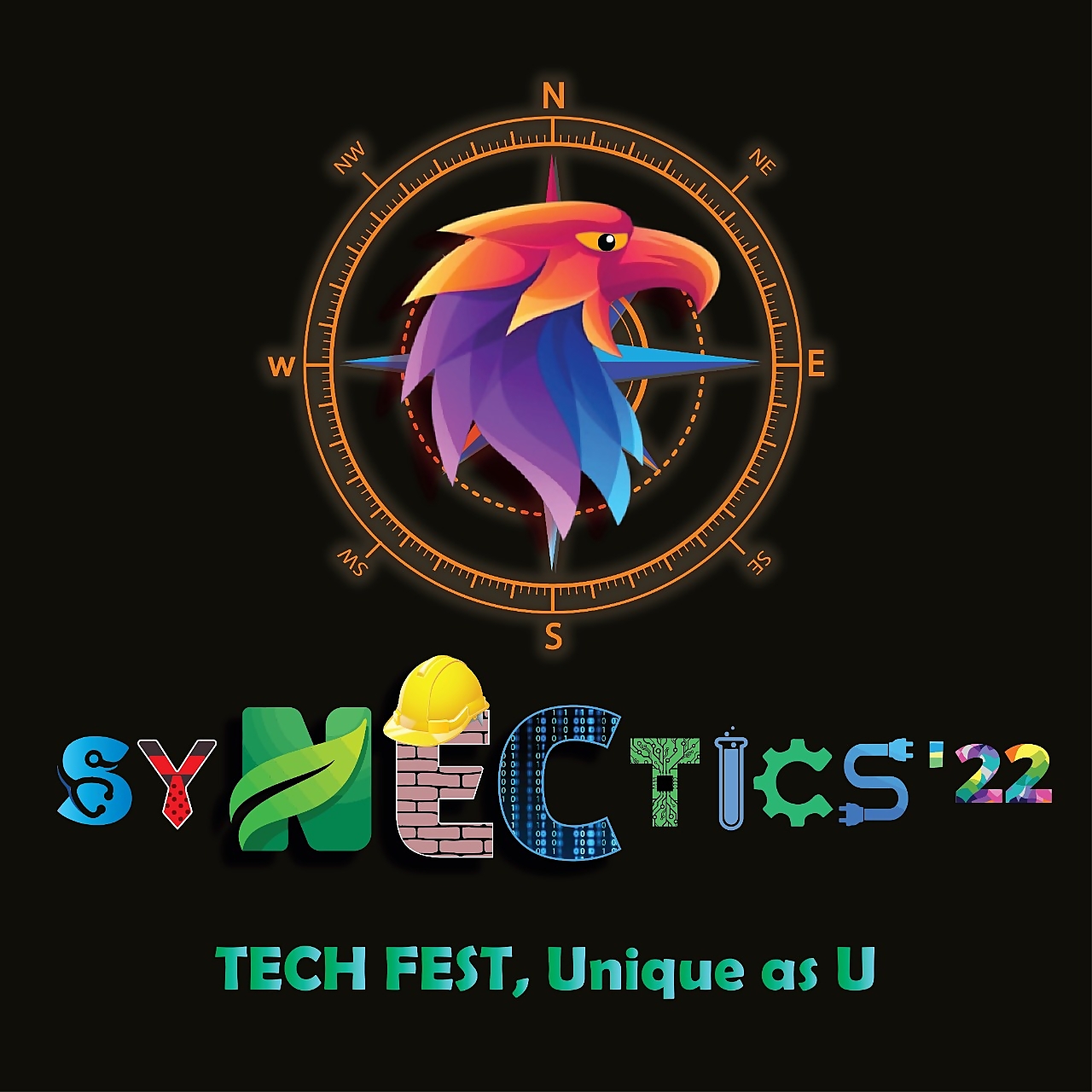 About Event
A grand Technical Fest has been organized by Nandha Engineering College, Erode for three days 23,24 and 25 November 2022.
A common event will be conducted called Ideathon where all the departments will be conducting together and the participants will be competing in a large arena.
Events
AGRICULTURAL ENGINEERING:
Agritech NexGen
Workshop on INTERNET OF THINGS IN AGRICULTURE
Workshop on MODERN PRACTICES IN MUSHROOM CULTIVATION AND HONEY BEE REARING
Ranch Parking
​Agri Preneur
Food Sensory
BGM Challenge

ARTIFICIAL INTELLIGENCE AND DATASCIENCE:
WORKSHOP ON AI - Getting started with Tensorflow and OpenCV
Figma®️ Encheres
Visual Code-A-Thon
Pac Battle
Code Hunters

BIOMEDICAL ENGINEERING:
Workshop on Biopython
Medigma
​Instant Medicopedia
Organ Hunt
Fast and Curious

CIVIL ENGINEERING:
SKETCH KIT(WORKSHOP)
BRIDGE BULIDERS
BRICK MODELLING
CONCRICK
TIMBER TOWER

CHEMICAL ENGINEERING:

Workshop on Sizing, Selection, and Installation of Pressure-Relieving Devices in Refineries
C - Hack
​Trail Blazzers
Roll Scroll
​Little Alchemy

COMPUTER SCIENCE AND ENGINEERING:

BLOGATHON
GRIPHINDOR
​INTERACTIVE AGENT
TIP TO TRACK
WORKSHOP ON CLOUD COMPUTING
AUGUMENTED VIRTUAL REALITY WORKSHOP
TECH LADDER
​
​ELECTRICALS AND COMMUNICATION ENGINEERING:

Simulate Your Idea
ARDUINO WORKSHOP
SEMICONDUCTOR TESTING WORKSHOP
Robo Race
Circuitrix
Tech Mystery

​ELECTRICALS AND ELECTRONICS ENGINEERING:

WORKSHOP
TRIP-DISSECT
GOOGLE GEEKS
DIGGING SCIENCE
ROLL THE DICE
​
INFORMATION TECHNOLOGY:

DATA ANALYTICS WORKSHOP
UI/UX DESIGN WORKSHOP
​CLASH OF GAMERS
Tech Thesaurus
TECHNERDS

MBA:

AD-MAD
RECYCLE MANIA
SYNETIC'S BOSS
Business team build

MCA:

SHOWCARD DESIGNING
BRAIN STORM
ICEBREAKER
PROJECT LAYOUT
FREE FIRE TOURNAMENT

MECHANICAL:

IC RACING
TECHIE SKETCH
WORHSHOP(3D PRINTING)
DR.CYCLIST
MR.ROCKETRY

​
Departments:
CSE
ECE
IT
EEE
Mechanical
Civil
Chemical
Agricultural
MBA
MCA
BioMedical
Accommodation
Accommodation will be provided for an affordable price.
How to reach Nandha Engineering College Autonomous, Erode
Routes:
Perundurai ->Vaikkalmedu->Nandha Engineering college
Erode->Vaikkalmedu->Nandha Engineering college
Certificates will be provided to Participants
Related Links:
SYNECTICS' 22
Nandha Engineering College Autonomous
Erode
Tamil Nadu
November 2022
Technical Fests
Technical Fests in Erode 2022
Technical Fests in Tamil Nadu
Management Fests
Management Fests in Erode 2022
Management Fests in Tamil Nadu
Workshops
Workshops in Erode 2022
Workshops in Ta
---