2nd International Conference on Research and Developments In Engineering and Management 2nd ICRDEM-2022
2nd International Conference on Research and Developments In Engineering and Management 2nd ICRDEM-2022, IIRM-SDT, Chirala, Andhra Pradesh, 30th October 2022
Useful Links
View Event Website
Poster Link
Brochure Link
Category :

International Conference

Event Type:

Online

Start Date :

30th October 2022

End Date :

30th October 2022

Location :

Chirala, Andhra Pradesh

Organizer :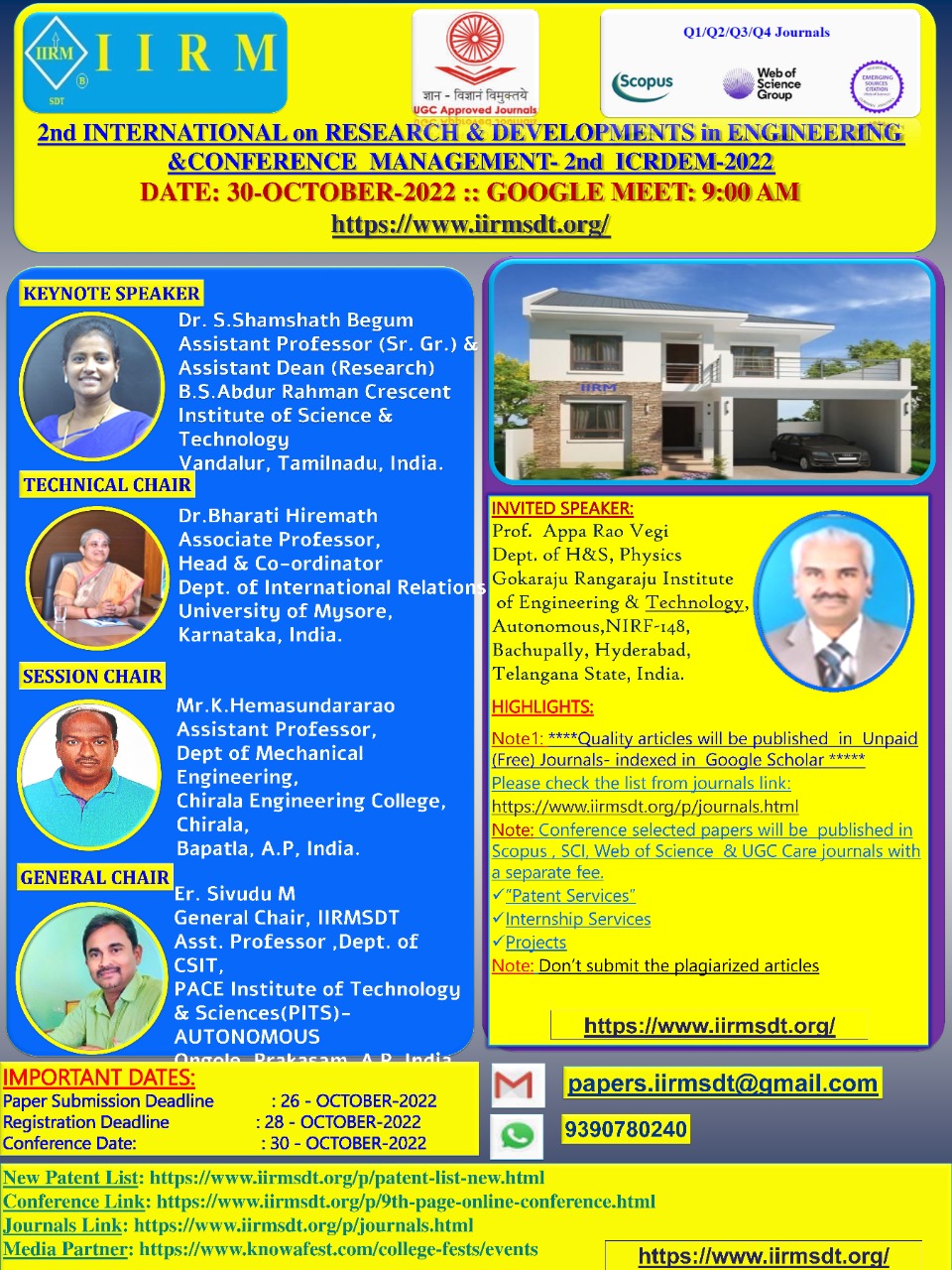 About Event
Dear Authors!

The 2nd International Conference on Research & Developments In Engineering & Management- 2nd ICRDEM-2022. The Conference will be organized Digitally. The Object of the 2nd ICRDEM-2022 is to present the Research & Developments in Engineering & Management-All Branches:Engineering, Science & Technology, Pharmacy, Management. The organizing committee of the conference is pleased to invite prospective authors to submit their original manuscripts to the 2nd ICRDEM-2022. All full paper submissions will be peer-reviewed and evaluated based on originality, technical and/or research content/depth, correctness, relevance to conference, contributions, and readability. Paper-ID will be provided to each paper for further reference after selecting it.


Download: Brochure

HIGHLIGHTS:
* **** Conference selected Quality Articles will be published in Unpaid (Free) Journals - indexed in Google Scholar *****

* Best Presentation Award
* Best Paper Award
* Conference Proceedings with ISBN
* All Co-Authors should get E-Certificates & E-Proceedings
- We provide Life Time Professional Member Ship to all Registered authors & co-authors
- Articles will be uploaded in the IIRM-SDT Google scholar link as per the author request only
- Conference E-Proceedings will be uploaded to our website
- Registered Articles's Paper-IDs will be uploaded on our website as per the allotted "Paper ID"

Note: We will permit per Article 4 to 6 authors including Guide for B.E /B.Tech Students, 1 to 2 authors including Guide for M.E / M.Tech Students, 1 to 2 authors including Guide for Research Scholars, 1 to 2 authors for Academician/Practitioner/Industrialist, and 1 to 2 authors for Ph.D./Post Doc.

Note1: Through Conference, Research Articles will be published in various Scopus, Web of Science, UGC Care, and SCI Journals with a separate fee.

Note2: Per Article, Registration Fee for B.E or B.Tech:₹1600/-, for M.E or M.Tech:₹1900/-, for
Research Scholars:2100/-, Academician/Practitioner/Industrialist: ₹ 3500/-
Ph.D./Post Doc.: ₹ 2900/-

Note3: For Foreigners, 150 Dollars per single author

NOTE4: Hard Copy of Conference Certificates, Membership Certificates, and proceedings will be posted to your postal address with a separate fee:₹ 500/-

Note5: For Members of IIRM-SDT, 200/- rupees will be less from the Conference Fee

Submit your Papers @: papers.iirmsdt@gmail.com
Events
Technical Paper Presenation
PPT Topics
Scope:Multidisciplinary(All Branches subjects and concepts)
Event Guests
Keynote Speaker
Dr. S.Shamshath Begum
Assistant Professor (Sr. Gr.) & Assistant Dean (Research)
B.S.Abdur Rahman Crescent Institute of Science & Technology
Vandalur, Tamilnadu, India


Technical Chair:
Dr.Bharati Hiremath
Head & Co-ordinator
Associate Professor,
Dept. of International Relations
University of Mysore,
Karnataka, India


Session Chair:
K.Hemasundararao
Assistant Professor
Department of Mechanical Engineering
Chirala Engineering College, Chirala

Invited Speaker:
Prof. Appa Rao Vegi
Dept.of H&S,Physics
Gokaraju Rangaraju Institute of Engineering & Technology,
Autonomous,NIRF-148,
Bachupally, Hyderabad,
Telangana State,India.
Event Caption
Research Ideas
Event Theme
Swapping Ideas
Departments:
CSE
ECE
IT
EEE
Instrumentation
Mechanical
Civil
Chemical
Agricultural
Energy
Metallurgy
Medical
Pharmacy
Arts
Industrial
BioTechnology
MBA
MCA
Commerce
Law
Telecommunication
Physics
Ocean
BioMedical
Mechanics
Textile
Aeronautical
Aerospace
Material
Mining
Automobile
Design
Marine
Ocean
Fashion
Media
BBA
Food
PolyTechnic
Accommodation
Virtual
Event Sponsors in Chirala
BLSDTE, IIRMSDT
Certificates will be provided to Participants
Related Links:
2nd International Conference on Research and Developments In Engineering and Management 2nd ICRDEM-2022
IIRM-SDT
Chirala
Andhra Pradesh
October 2022
Conferences
Conferences in Chirala 2022
Conferences in Andhra Pradesh
---