International One Day Workshop on Artificial Intelligence 2K22
International One Day Workshop on Artificial Intelligence 2K22, NGCS, Realtime Practical Oriented Training, Chennai, Tamil Nadu, 9th October 2022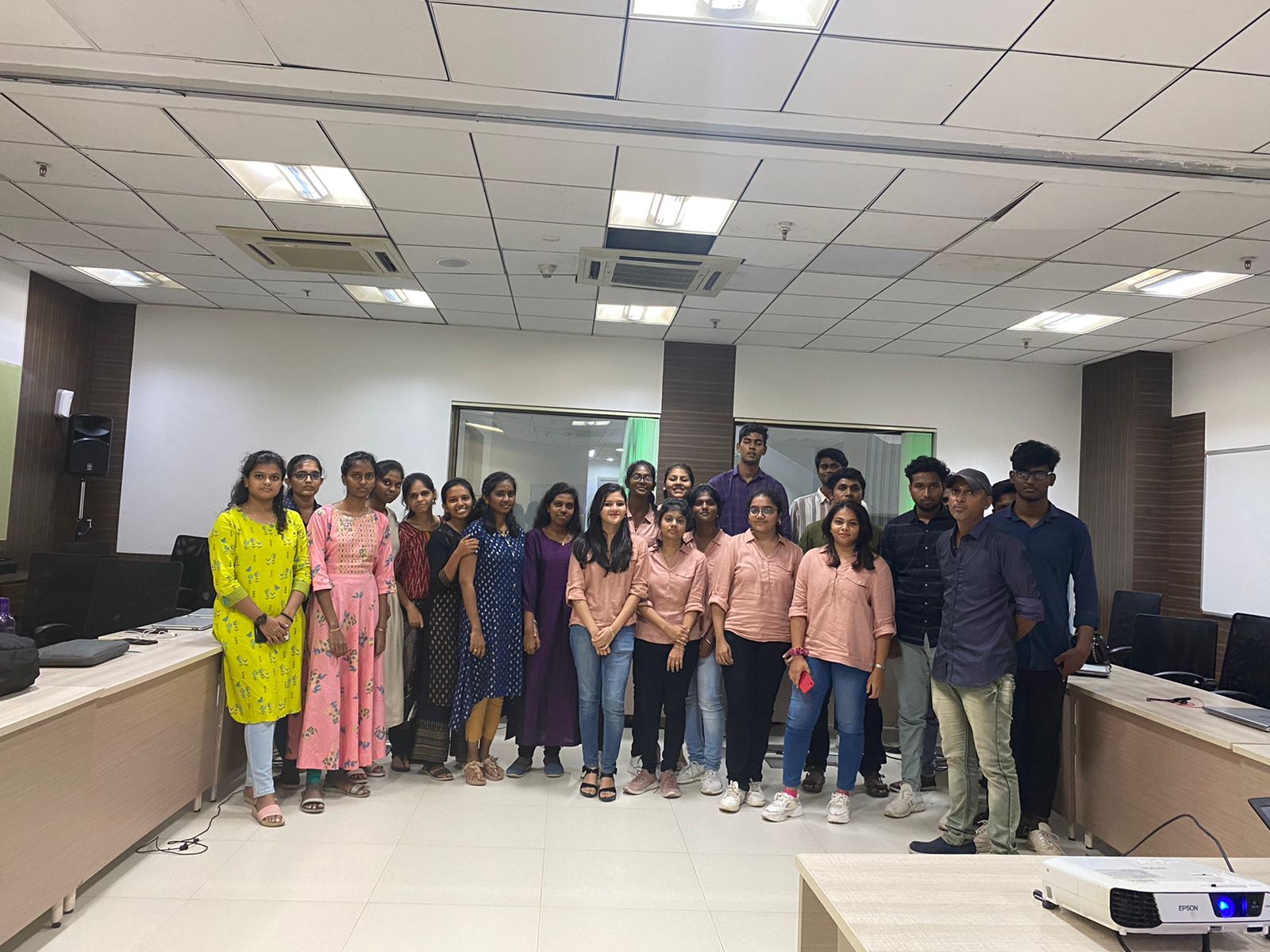 About Event
International One Day Workshop on Artificial Intelligence 2K22
Date: 09th October 2022
Day: Sunday
Timings : 10.00 AM to 04.00 PM
Venue: IIT Madras Research Park, No: 32 kanagam road, kanagam Periyar nagar, Taramani Kanagam, Taramani, Chennai , Tamilnadu- 600113
Total Cost : Rs.880/- (Notepad,pen, certificates,snacks,cool or hot beverages & lunch will be provided)
Mode of payment : online
Contact Person: 6379931965
Certificates will be provided@end of the workshop
#No Age limits
#Open for all departments
#Whoever have passion towards learning Artificial Intelligence are invited for our event
#Since it was an basic level of workshop there is no prerequisites required

How to register ?

REGISTRATION FEES

Total fees : Rs. 880/-
Mode of payment : online
How to register ?
Step1:
Kindly transfer the payment to the below mentioned account :
Name: Shrinesh S
Account Number : 1754170000002730
Bank: Karur Vysya bank
Branch : Padi
IFSC: KVBL0001754
Or
Google Pay: Shrinesh - 6369964865
Or
Phonepe : Shrinesh - 6369964865
Or
Paytm : Shrinesh - 6369964865

STEP2: Send the payment screenshot via watsapp to 6379931965 or via email to info@ngcs.in along with the below details
Name:
Contact Number:
Email ID:
College Name:
Department:
No:of seats Blocked:
Workshop Registered for:
Lunch Veg or Nonveg:
Events
Why we need to learn Artificial Intelligence?
Starting salaries for recent graduates in artificial intelligence positions range between Rs. 6 LPA and Rs. 12 LPA on average, with top-tier employers providing significantly higher compensation.
Companies will pay you up to Rs. 17 LPA if you have a solid background in AI and at least 2-3 years of relevant professional experience.
The median wage range for an AI expert with 4–8 years of experience is between R 35–50 lakh per year.
Artificial intelligence engineers with more than ten years of expertise can make more than one crore each year.
Professional AI engineers enjoy a high level of esteem, and many AI start-ups and organisations are willing to spend a lot of money to hire them.
Applications of AI
Healthcare: To diagnose the disease and help doctors with operations.
Education: To provide a personalised learning environment
Sports: AI can improvise the abilities of the players and can make sports more fun
Agriculture: AI can help to increase the yield and help to grow better crops
Construction: Buildings and apartments construction would become more safe and fast
Banking: Banking can be more secures and personalised using AI
Marketing: Business can be more intelligent and target the right customers using AI
E-commerce: The selling process will become easier and more efficient, plus the personalised products will be shown, which will help both the customers and sellers
Future of AI
According to the Gartner report, there has been a growth of 270% in the applications of AI from 2015 – 2019. AI domain is a great domain to enter. The job will never be laid off in the next 8-10 decades. AI seems to be a new revolution in the world. AI is a great choice if someone is planning to switch their careers or start a new one. The jobs are challenging, full of growth opportunities, and even the salary is relatively high.

Getting proper guidance right from the start saves a lot of time, and especially with the domain of AI, it's important to get the basics right and grow step by step. The future with AI is immensely promising, and still, the current job market requires a lot of great professionals who can help companies grow and contribute to the field of AI.

How are the job opportunities for AI?
Artificial Intelligence (AI) occupations are in high demand all around the world. It will expand as AI becomes more prevalent in various fields, making it easier for humans to collaborate and flourish together. Employers want AI to manage a wide range of tasks, including development, research, innovation, and design. As a result, the AI field appears to be promising, and it is expected to grow significantly in the next years. That is why the world requires more qualified people to assist in the automation of systems and the development of smarter systems.

What is the future of AI?
From 2015 to 2019, the number of AI applications grew by 270 percent, according to a Gartner analysis. The AI domain is a fantastic place to start. In the next 8-10 decades, the position will never be eliminated. Artificial intelligence (AI) appears to be a new revolution in the globe. If someone wants to change careers or start a new one, AI is a terrific option. The occupations are difficult, offer plenty of room for advancement, and pay is competitive. The future of AI is extremely bright, but the existing job market still requires a large number of excellent individuals that can assist firms in growing and contributing to the field of AI.

What are the applications of AI?
AI can enhance players' abilities and make sports more enjoyable. AI can assist in increasing productivity and improving crop quality. Buildings and apartments would be built in a safer and faster manner. AI can make banking more safe and personalized. AI can help businesses become more sophisticated and target the correct clients. The selling procedure will become more simple and efficient, and customized products will be displayed, which will benefit both customers and sellers. Artificial intelligence (AI) can be used to detect the ailment and assist doctors during operations.

Workshop Contents:
• Overview of Artificial Intelligence
• Applications of Artificial Intelligence
• Goals of Artificial Intelligence
• Introduction to Neural networks
• pre-work for Deep learning
• Artificial Intelligence & Deep learning using tensorflow
• Machine learning
• Supervised & Unsupervised learning
• python with datascience
• Research Areas of Artificial Intelligence (Real-life Applications of Research areas & task
classification of AI)

# Implement what you learn, get ready as per the industry level.
# Learn the skills that companies want.
Workshops
Total fees : Rs. 880/-
(Inclusive of Notepad,Pen, Certificate, Lunch, Hot/Cool beverages)
Mode of payment : online only
How to register ?
Kindly transfer the payment to the below mentioned account :
Name: Shrinesh S
Account Number : 1754170000002730
Bank: Karur Vysya bank
Branch : Padi
IFSC: KVBL0001754
Or
Google Pay: Shrinesh - 6369964865
Or
Phonepe : Shrinesh - 6369964865
Or
Paytm : Shrinesh - 6369964865
& Send the payment screenshot via watsapp to 6379931965 or via email to info@ngcs.in along with the below details
Name:
Contact Number:
Email ID:
College Name:
Department:
No:of seats Blocked:
Workshop Registered for:
Total no.of lunch (veg or nonveg)
# Hurry Up
# Limited Seats only
Departments:
CSE
ECE
IT
EEE
Instrumentation
Mechanical
Civil
Chemical
Agricultural
Energy
Metallurgy
Medical
Pharmacy
Arts
Industrial
BioTechnology
MBA
MCA
Commerce
Law
Telecommunication
Physics
Ocean
BioMedical
Mechanics
Textile
Aeronautical
Aerospace
Material
Mining
Automobile
Design
Marine
Ocean
Fashion
Media
BBA
Food
PolyTechnic
School
Accommodation
We can recommend nearby hostels
Contact Details
Neha
6379931965
info@ngcs.in
Last Dates for Registration
There is no deadline for registration
Registration will be booked under first come first serve basis
# Hurry up
# Limited Seats only
How to reach NGCS, Chennai
Venue: IIT Madras Research Park, No: 32 kanagam road, kanagam Periyar nagar, Taramani Kanagam, Taramani, Chennai , Tamilnadu- 600113

Event has been organized by NGCS, NGCS is not associated with IIT Madras or IIT Madras Research Park.

(IIT Madras Research Park is only a Workshop Venue)
Certificates will be provided to Participants
Related Links:
International One Day Workshop on Artificial Intelligence 2K22
NGCS
Chennai
Tamil Nadu
October 2022
Workshops
Workshops in Chennai 2022
Workshops in Tamil Nadu
---