The Bossvenger 2022, Christ College of Engineering, Technical Festival , Irinjalakuda, Kerala, 1st - 5th May 2022
Category :

Technical Festival

Event Type:

Offline and Online Mode

Start Date :

1st May 2022

End Date :

5th May 2022

Location :

Irinjalakuda, Kerala

Organizer :
---
Useful Links
View Event Website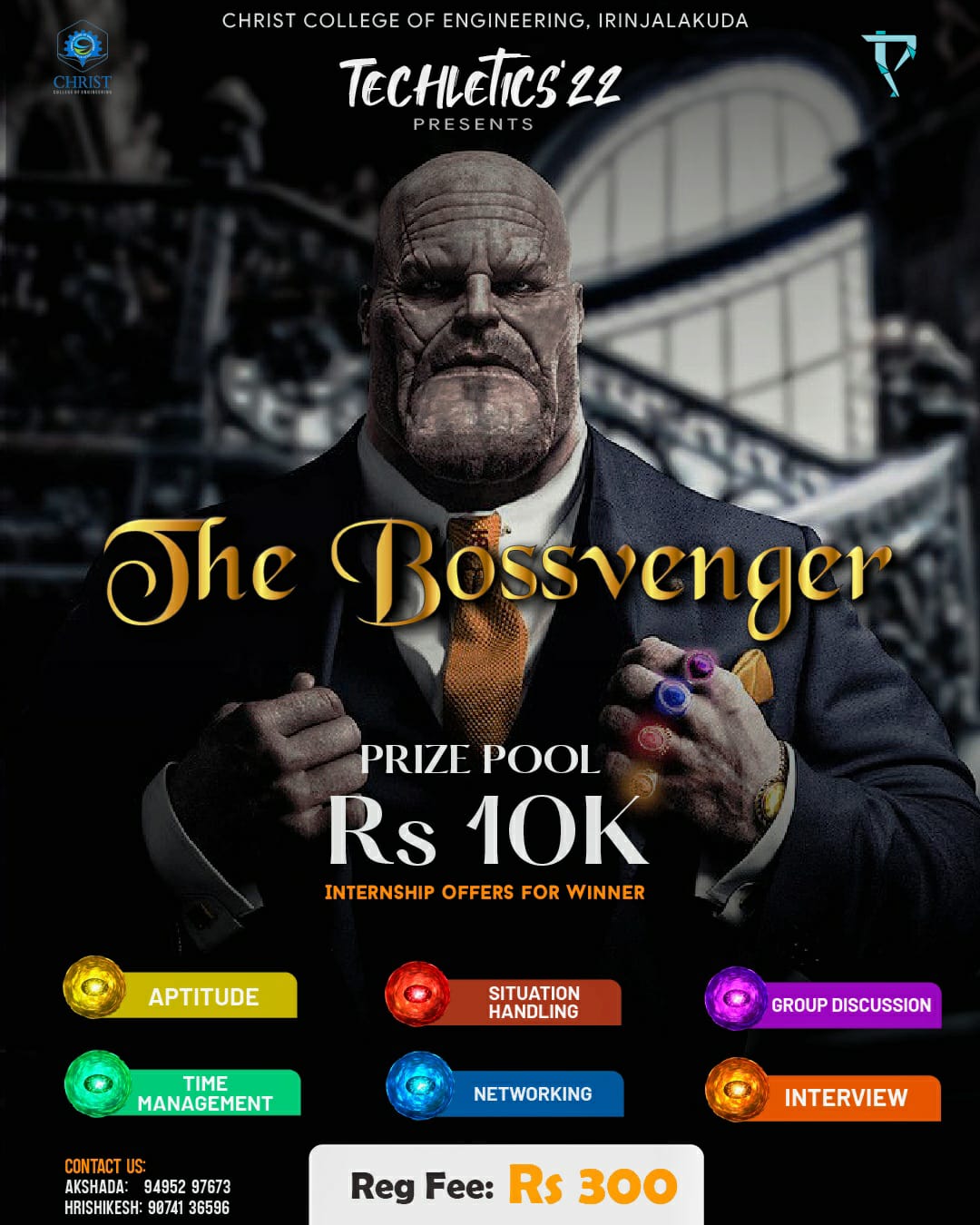 About Event
1. The event is meant for individual participation.
2. There are six rounds. The first four rounds will be conducted in online mode. The final two rounds will be held in offline mode on 05/05/2022, at Christ College of Engineering, Irinjalakuda.
3. The first round will be an aptitude quiz which will be held on 01/05/2022 at 10am. The round consists of 40 questions over a duration of 60 mins.
4. The second round will be held the same day at 3pm. This round is meant to test time management skills. It consists of puzzles which are to be solved in the given time span.
5. A scenario will be given in the third round and participants have to submit a descriptive solution on how the situation will be handled by them. The round will be held the same day at 7pm.
6. In the fourth round, participants have to submit 3 different recommendation letters from different resource persons, details of which will be intimated later.
7. The fourth round will be announced on the same day and a duration of 48 hrs will be given to complete the task. The participants have to submit the recommendation letter on/before 10pm, 03/05/2022.
8. The participants will be shortlisted based on your performance in the previous rounds. The selected participants have to appear for the subsequent offline rounds which will be held on 05/05/2022.
9. The fifth round will be a group discussion round . The round will be held at 10am on the day.
10. The final round is an interview round which will be held at 2pm.
11. Participants should appear at least 30 mins before the commencement of the offline rounds.
12.Any participant failing to show up at the specified time shall be disqualified.
13. Judges' decision shall be final and abiding.
14. Registration fee will be non-refundable.
Events
Techletics 2022 is the official techfest of Christ College of Engineering, Irinjalakuda. What sets it apart from other colleges around the state is the due importance it gives for both cultural and technical events. This, in turn, benefits and develops students and people from all walks of life. We are stepping it up by planning a much bigger event than the first edition of Techletics.

Techletics'22 presents to you Bossvenger, a competition with six rounds, each named after an Infinity Stone of the Marvel films. This competition tests the participants through various situations of the workplace. Exciting cash prizes are awarded and the first place winner will be offered internship opportunities at esteemed organizations sponsored by Skilljag.

Prize Pool : ₹10,000
Departments:
CSE
ECE
IT
EEE
Instrumentation
Mechanical
Industrial
MBA
MCA
Telecommunication
Mechanics
Aeronautical
Aerospace
Automobile
BBA
How to reach Christ College of Engineering, Irinjalakuda
Christ College of Engineering, Irinjalakuda
Certificates will be provided to Participants
Related Links:
The Bossvenger 2022
Christ College of Engineering
Irinjalakuda
Kerala
May 2022
Technical Fests
Technical Fests in Irinjalakuda 2022
Technical Fests in Kerala
---