Vishwapreneur 2022, Vishwakarma Institute of Information Technology, Entrepreneurship Summit, Pune, Maharashtra, 16th - 17th April 2022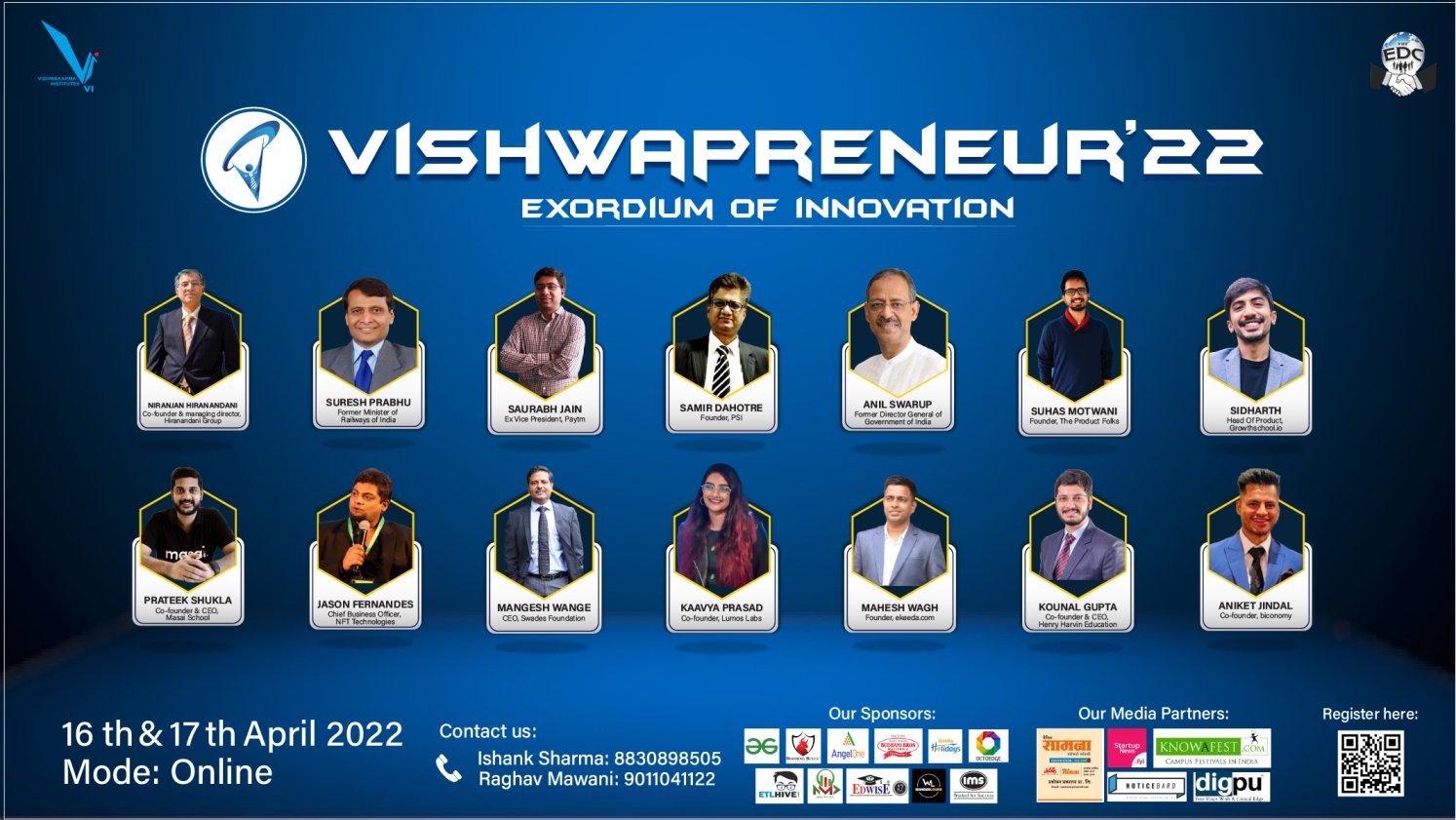 About Event
Vishwapreneur is the two-day national level flagship event of the Entrepreneurship Development Cell of
BRACT's Vishwakarma Institute of Information Technology. This is a platform for budding entrepreneurs to seek motivation and guidance through the experiences of successful entrepreneurs, creators, business tycoons, and other guests from all walks of life.

The event is designed to inspire, invigorate and innovate ideas, businesses, and dreams in all aspects of entrepreneurship.

Vishwapreneur'22 is the 9th edition of the successful 'Vishwapreneur' series. This year is an opportunity for the event to go 'Global'. In difficult times we tend to turn towards innovation. As a result, this event can witness the arrival of new and innovative ideas. There is a boom in the startup culture in India.

Vishwapreneur'22 aims to promote the startup culture by bringing together opportunities and aspiring
people. There will be a variety of sessions on trending topics like Startups, Fintech, Web 3.0, and Edtech,
among others. The event hosts a platform for curious people to gain additional and invaluable knowledge.
Events
Key Note Sessions
Panel Discussion
Q&A
Event Guests
1. SURESH PRABHU
Former Railway Minister of India

2. NIRANJAN HIRANANDANI
Co-founder of Hiranandani Group

3. SAURABH JAIN
Ex Vice President,Paytm

4. SAMIR DAHOTRE
Founder PSI Network

5. ANIL SWARUP
Former Secretary, Coal Sector of India

6. SIDDHARTH
Head of Product,GrowthSchool.io

7. KAVYA PRASAD
Co-Founder LumosLabs

8. MANGESH WANGE
Co-Founder Swades Foundation

9. MAHESH WAGH
Founder of Ekeeda.com

10. PRATEEK SHUKLA
Co-Founder Masai School

11. ANIKET JINDAL
Co-Founder of Biconomy

12. Suhas Motwani
Founder, The Product Folks

13. Jason Fernandes
Chief Business Officer, NFT Technologies

14. Kounal Gupta
Co-founder & CEO, Henry Harvin Education
Event Caption
Exordium of Innovation
Event Theme
E-Summit
Departments:
CSE
ECE
IT
EEE
Instrumentation
Mechanical
Civil
Chemical
Energy
Industrial
MBA
MCA
Commerce
Telecommunication
Physics
Mechanics
Aeronautical
Aerospace
Material
Automobile
Design
Media
BBA
How to reach Vishwakarma Institute of Information Technology, Pune
The event is in online mode. So you can attend this event in your comfort zone.
Event Sponsors in Pune
1. Angel One
2. Geeks for geeks
3. Booming bulls
4. Octoedge
5. Wanderlooms
6. ETLHIVE.com
7. Smita holidays
8. Edwise
9. IMS
10. Budhani Bros waferwala
11. NMD Pvt. Ltd.
Certificates will be provided to Participants
Related Links:
Vishwapreneur 2022
Vishwakarma Institute of Information Technology
Pune
Maharashtra
April 2022
Entrepreneurship Summit Events
Entrepreneurship Summit Events in Pune 2022
---