Python Workshop 2020, NGCS, Chennai, Tamil Nadu, 9th February 2020
Category :

Workshop

Event Type:

Venue

Start Date :

9th February 2020

End Date :

9th February 2020

Location :

Chennai, Tamil Nadu

Organizer :
---
Useful Links
View Event Website
Poster Link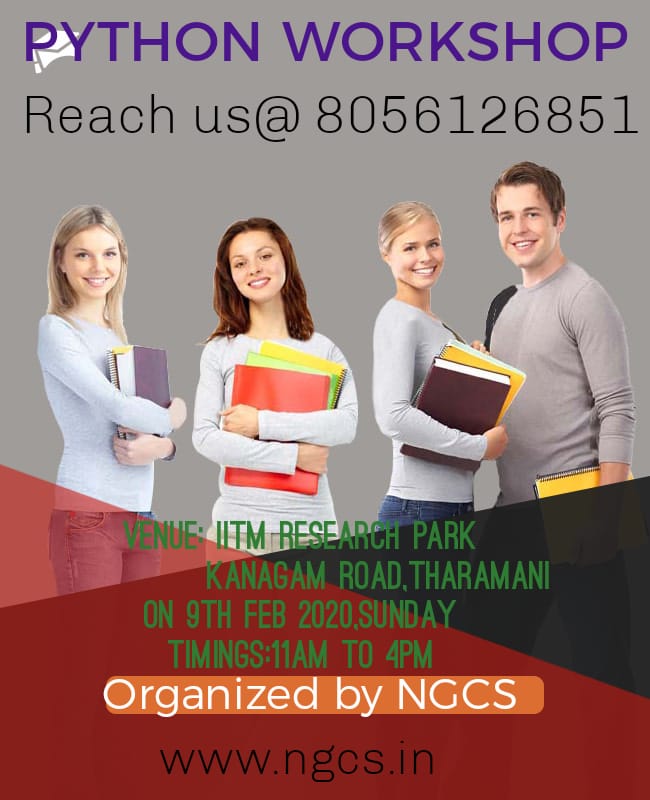 About Event
Workshop Title :
Python 2k20
Venue : IIT Madras Research Park No: 32 kanagam road kanagam . Periyar nagar Taramani Kanagam Taramani, Chennai , Tamilnadu- 600113.
Date : 09/02/2020
Sunday
Duration : 11.00 AM to 04.00PM
Total Cost : Rs.800/-
Certificates will be provided@ End of the workshop.
#Open for all Departments
#Since it's an basic level of workshop there is no prerequisite, whoever interested can join the workshop
#Certificates will be provided immediately@end of the event
Events
Workshop Syllabus:

• INTRODUCTION TO PYTHON
• COMPARISON WITH OTHER
LANGUAGES
• DATA TYPES NUMBER, STRING, LIST, TUPLE, DICTIONARY
• OPERATORS
• DECISION MAKING
• LOOPS
• EXCEPTIONS
• MODULES
• FUNCTIONS
• BASICS OF OBJECT-ORIENTED PROGRAMMING
•  CLASSES AND OBJECTS IN PYTHON

# Practical sessions
#corporate trainer
#project guidance
#certificates

Note: NGCS is not associated with IIT Madras or IITMRP.
Workshops
How to register?
Kindly transfer the amount to the below mentioned account details and send the payment receipt to info@ngcs.in
along with the following details
(Name,Contact number,Email ID, College Name,Year and dept
No.of seats blocked,
workshop Registered for )

Account details:
Account Holder Name: Lakshmanan Natarajan
Bank Name: State Bank of India
Account Number: 00000010943952396
IFSC Code: SBIN0000853
Branch Name: Kanchipuram
Or
Google pay:
7418385969 Udhayan
Or
Phonepe :
Udhayan 7418385969
(You can use any one of the above method for transferring payments)

Any other Queries Please feel free to watsapp/ call @8056126851 or email us info@ngcs.in
Departments:
CSE
ECE
IT
EEE
Civil
Chemical
Agricultural
Medical
Pharmacy
Arts
BioTechnology
MBA
MCA
Commerce
Law
BioMedical
Mechanics
Aeronautical
Aerospace
Design
Fashion
Media
BBA
Accommodation
Contact 8056126851 Neha
How to reach NGCS, Chennai
Venue : IIT Madras Research Park No: 32 kanagam road kanagam . Periyar nagar Taramani Kanagam Taramani, Chennai , Tamilnadu 600113
Related Links:
One Day Workshop on Python 2020
NGCS
Chennai
Tamil Nadu
February 2020
Python Workshops
Python Workshops in Chennai 2020
Python Workshops in Tamil Nadu
---