National Students Space Challenge 2019
National Students Space Challenge 2019, IIT Kharagpur, Technical Festival, Kharagpur, West Bengal, 1st - 3rd November 2019
Category :

Technical Festival

Event Type:

Venue

Start Date :

1st November 2019

End Date :

3rd November 2019

Location :

Kharagpur, West Bengal

Organizer :
---
Useful Links
View Event Website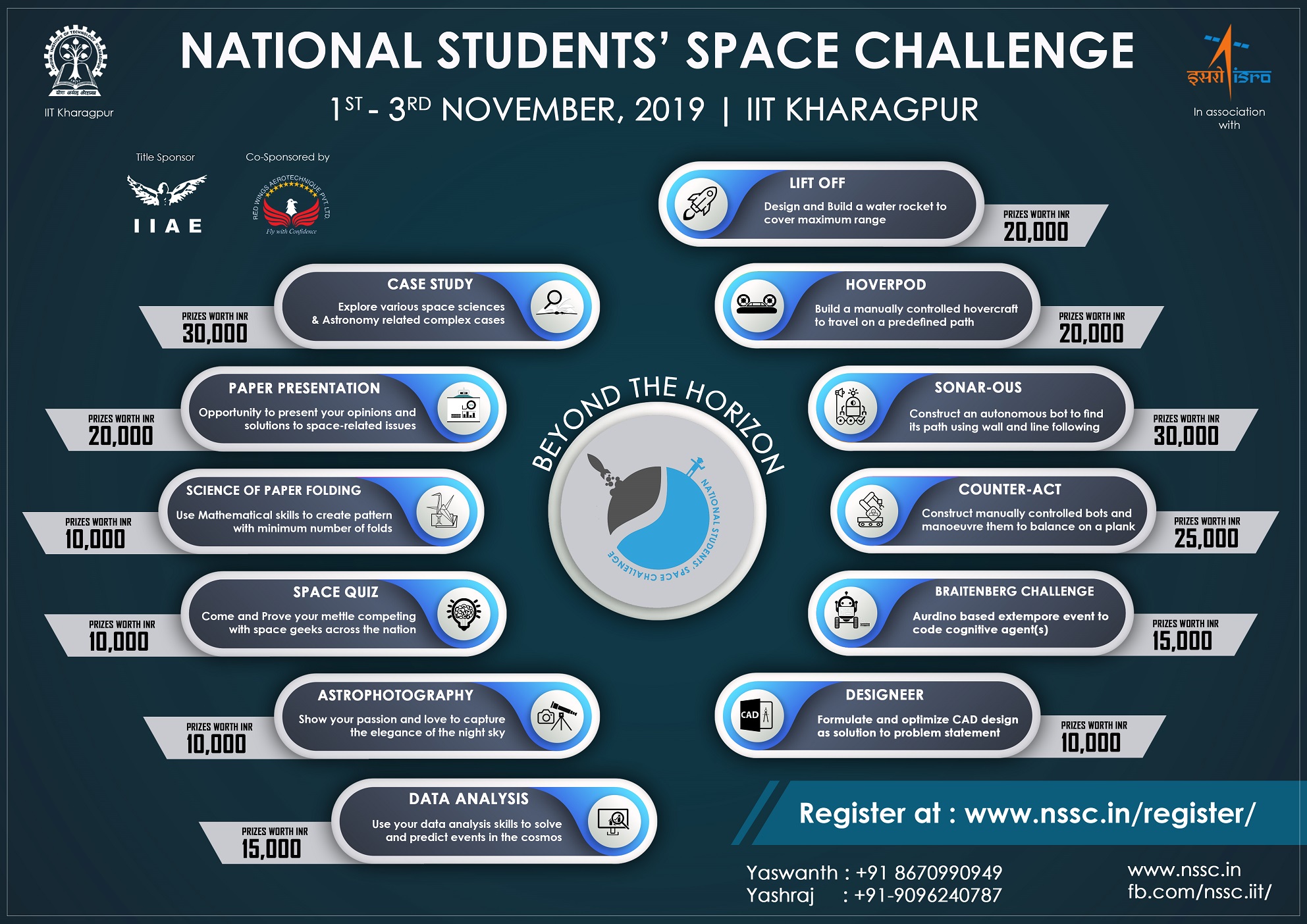 About Event
In the wake of tremendous success in the field of space science and technology, the world has witnessed the birth of a new era. As the world realized the importance of space technology, Space Technology Students' Society, IIT Kharagpur took the initiative of starting National Students' Space Challenge, a unique blend of space science and technology. Every year, many budding space enthusiasts showcase their talents in this fest which also happens to be India's first and largest of its kind.

Space Technology Students' Society (spAts) is the organising team of NSSC. Officially, spAts is the student body of Kalpana Chawla Space Technology Cell (KCSTC), the contact point of Indian Space Research Organisation (ISRO), at IIT Kharagpur. With the aim of spreading the awareness of the importance of space technology, spAts conducts National Students' Space Challenge every year.

The commencement of November 2019 brings with it the 9th edition of the NSSC presented by IIT Kharagpur in association with the Indian Space Research Organization (ISRO). During the fest, participants from all across the country compete in amazing space-themed robotic and astronomy based events which will challenge the participants' engineering and innovation skills. Participants also get to witness highly inspiring guest lectures by eminent scientists, astronomers and professors from deemed institutions across the globe. A number of workshops are conducted too, which enable the participants to develop their technical and innovation skills. A plethora of immensely popular online pre-fest events are hosted by NSSC which give us a glimpse into the world of space and tech. The main motto of this fun-packed space themed fest is to raise the standards of space technology and encourage young minds.
Enjoy some cool online pre-fest events by NSSC! Visit www.nssc.in and www.fb.com/nssc.iit . This November book your tickets to Kharagpur to enjoy and explore 3 fun packed days in 2200-acre campus of IIT Kharagpur. See you there!
Eligibility: Ongoing Undergraduate and Graduate Students from any stream in India.
Events
The fest comprises of the following events:
Sonar-ous : An autonomous robot-making competition
CounterAct: A manual robotic competition
Case Studies
Paper Presentation
Data Analytics Competition
The Braitenberg Challenge: An onspot Hardware coding event
Lift-off: The classic Water-Rocketry Competition
Hoverpod: Hover-Craft making competition
The Science of Paper Folding: Onspot origami and topology competition
Designeer: Onspot CAD competition
Astrophotography competition: Online photography Competition
Space Quiz: Online and offline quiz competition.
Event Caption
Beyond The Horizon
Event Theme
Black Holes
Departments:
CSE
ECE
IT
EEE
Instrumentation
Civil
Chemical
Agricultural
Arts
BioTechnology
MBA
MCA
Commerce
Law
Telecommunication
Mechanics
Aeronautical
Aerospace
Design
Fashion
Media
BBA
Accommodation
Guests will be provided accommodation in the guest house inside the campus.
Participants will be provided accommodation in well-constructed common rooms of hall of residences inside the campus.
Participants will be provided dormitory type accommodation, mattresses and other basic facilities required.
There will be no extra fee for accommodation it will be included in the registration fee.
Participants must pay registration fee through online payment for getting reserved accommodation seat.
Accommodation will be provided on a "first come first serve" basis, student who registered for it earlier will have reserved seats.
How to reach IIT Kharagpur
Situated about 120 km west of Kolkata Kharagpur is well connected to Kolkata by Road and Rail transport.
Kharagpur is well connected to most major cities of India by rail. There are frequent trains to Kharagpur. The Institute is about 10 minutes drive (5 km) from the Kharagpur railway station. Private taxi, auto rickshaw or cycle-rickshaw can be hired to reach the Institute.
The nearest airport to Kharagpur is the Netaji Subhas Chandra Bose International Airport (CCU), Kolkata. You can get a flight to Kolkata airport on regular basis. It is widely connected to almost all the major destinations of the country.
From Kolkata Airport you can take a cab from the Airport taxi stand to Kharagpur. The distance is almost 140KM. The travel time is approximately 2.30 hrs. It costs roughly Rs. 3000/- (depending on the taxi type)
OR one can board regular Express or Local (choice is yours) trains to Kharagpur from Howrah station. It takes 2 hrs by an express train - Fare - Rs 60/- to 150/- depending on class and train type.
Related Links:
National Students Space Challenge 2019
IIT Kharagpur
IITs
Kharagpur
West Bengal
November 2019
Technical Fests
Technical Fests in Kharagpur
Technical Fests in West Bengal
Workshops
Workshops in Kharagpur
Workshops in West Bengal
Online Events
Online Events in Kharagpur
Hackathons
---