BIT-TECHFEST 2021, Bannari Amman Institute of Technology, Virtual Appathon Event, Erode, Tamil Nadu, 14th - 28th August 2021
Category:

Virtual Appathon Event

Start Date: 14th August 2021
End Date:

28th August 2021
Visit Event Website
Event/Registrations Closed
Close
Hope you did not miss it.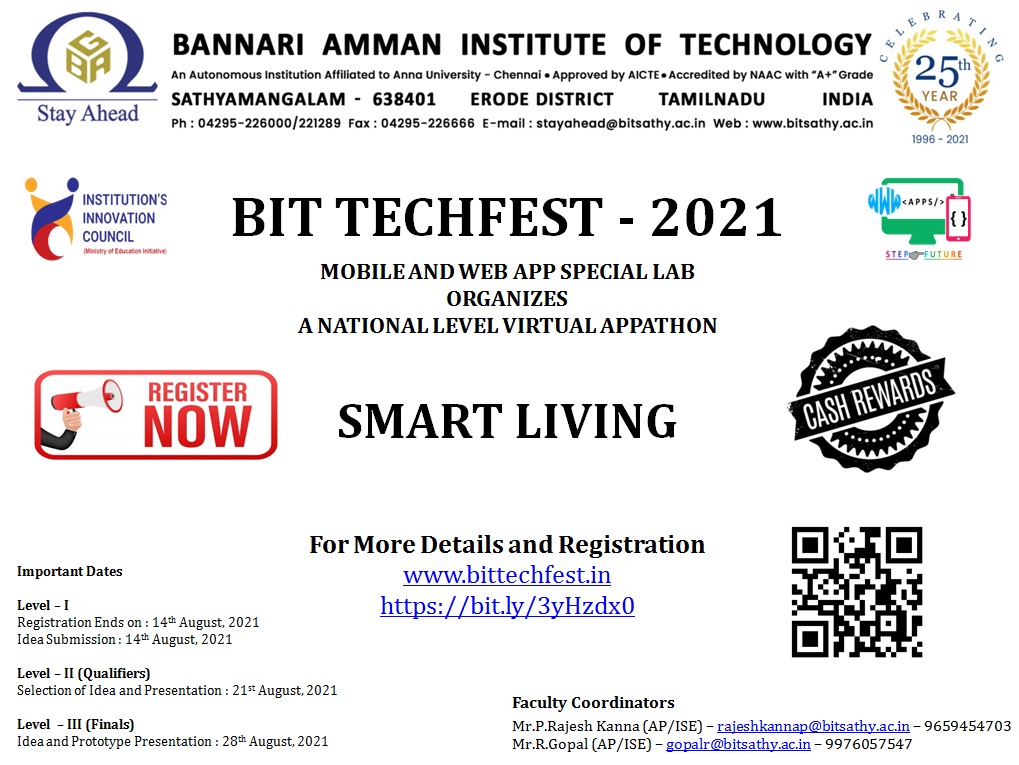 Description
Greetings from Mobile and Web App Special Lab from Bannari Amman Institute of Technology.
Mobile and Web App Special Lab is very happy to launch the National Level Virtual Appathon Event, Smart Living - 2021 as a part of BIT Techfest.

Smart Living - 2021 is provided as a platform for future engineers to showcase their innovative projects made on Open Source Software and Programming Languages which could solve real-time problems based on the theme Smart Living.
By participating in Smart Living - 2021, an astonishing event, you will be able to make your technical experience much more. Why waiting? Grab your Laptops and a cup of coffee and register for Smart Living - 2021

Rules and Regulations:
---------------------------------
A team should contain a minimum of 1 member and a maximum of 3 members
The team may also contain members from different departments(s) and college(s)
The team members won't be modified once after their successful registration
The Participants will be evaluated, shortlisted/eliminated, and promoted to the next rounds by the experts by using the mentioned criteria
The judgement made by the experts will be final and would not be changed
If any malpractices found among the participants, the particular team will be disqualified
Registration /Document submission once after the deadline will not be considered
Every participant will receive a certificate of participation
Cash prizes will be awarded along with the certificate for winners
Events
Level of Events:
=============
LEVEL - I (Ends on 14th August 2021)
------------------------------------------------------
Submit your Smart Living-based Problem along with a Solution.
The submission should be with Project Title, Problem & Solution in an Abstract Word Format with less than 500 words.
Selection will be based on innovative solutions.
All Registered Student/Team

LEVEL - II (21st August 2021)
----------------------------------------
All team members must present their concept during the presentation along with a detailed report of the work.
Templates will be shared with selected Batches
For PPT presentation in stage 2, Time limit: 12 mins for presentation 3 mins Viva.
PPT should be presented by the student's coordinators.
Strictly adhere to the timelines which will be shared officially.
Selection will be based on the Presentation & Already submitted Abstract
All Selected Student/Team for Level - II

LEVEL - III (28th August 2021)
-------------------------------------------
Demo Video to be Uploaded in YouTube (Prior Event Starts)
Virtual / Physical Presentation with Demonstration of the Working model to be Presented.
Demo Video - No. of Likes, Views, Comments
Presentation - Based on the Novelty, Scope, Demo of Working Model, and Solution identification for Problem.
Selected Student/Team for Level - III
Paper Presentation Topics
Topic includes, but is not limited to……

Ideate, Design, and Develop End to End Smart Solutions for Smart Living.

Problem Statements
-----------------------------
Create a Mobile/Web App for an individual or Community living people, Where their entire living is made Smart. Any Technology, Devices, and Hardware can be used for the Best Solution to the Problem Statement.
Event Caption
Smart Living
Event Theme
Ideate, Design and Develop End to End Smart Solutions for Smart Living.
How to reach Bannari Amman Institute of Technology, Erode
Bannari Amman Institute of Technology,
Sathy - Bhavani State Highway, Alathukombai - Post,
Sathyamangalam - 638 401, Erode District, Tamil Nadu, India
Mobile No. : +91 99429 21289
Popular Cities
Popular States