7 Days International Internship on IC Engines and Electric Vehicles (Hybrid Mode) 2023
7 Days International Internship on IC Engines and Electric Vehicles (Hybrid Mode) 2023, Top Engineers, Chennai, Tamil Nadu, 19th - 25th June 2023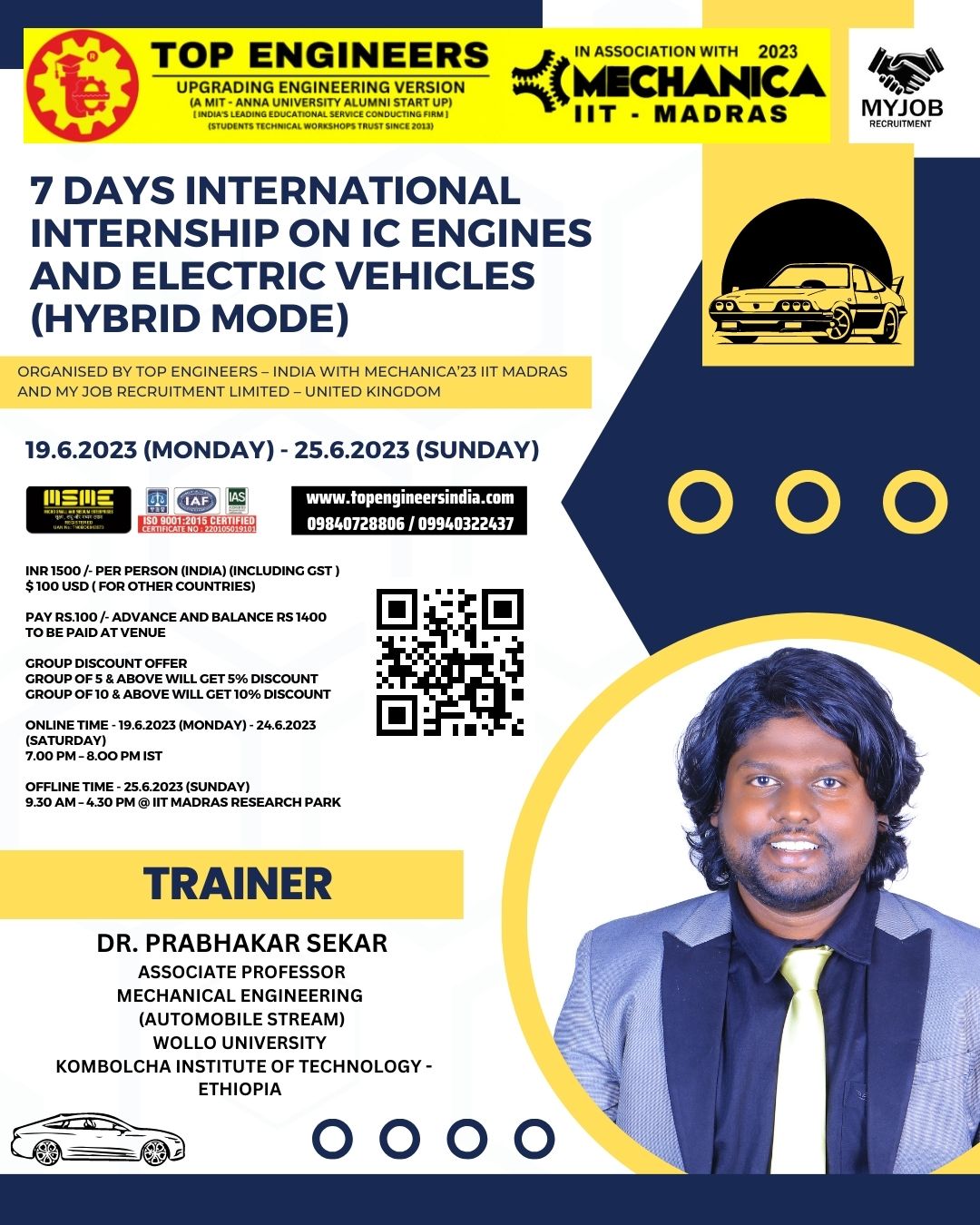 About Event
7 DAYS INTERNATIONAL INTERNSHIP ON IC ENGINES AND ELECTRIC VEHICLES (HYBRID MODE)

ORGANIZED BY TOP ENGINEERS – INDIA IN ASSOCIATION WITH MECHANICA'23 IIT MADRAS AND MY JOB RECRUITMENT LIMITED – UNITED KINGDOM
Events
CERTIFICATE OF INTERNSHIP FROM TOP ENGINEERS IN ASSOCIATION WITH MECHANICA'23 IIT-MADRAS AND MY JOB RECRUITMENT LIMITED – UNITED KINGDOM WITH ISO CERTIFIED NUMBER AND HOLOGRAM STICKER WILL BE PROVIDED WHICH WILL ADD VALUE DURING PLACEMENTS.
Workshops
ONLINE MODE : GOOGLE MEET PLATFORM

OFFLINE VENUE : IIT MADRAS RESEARCH PARK
No.32,Kanagam Rd, Kanagam Periyar Nagar, Taramani, Chennai, Tamil Nadu 600113.
(IITM Research park is only a venue and the event is organized by TOPENGINEERS only)

DATE
19.6.2023 (MONDAY) - 25.6.2023 (SUNDAY)

ONLINE TIME - 19.6.2023 (MONDAY) - 24.6.2023 (SATURDAY)
7.00 PM – 8.OO PM IST

OFFLINE TIME - 25.6.2023 (SUNDAY)
9.30 AM – 4.30 PM @ IIT MADRAS RESEARCH PARK

CONTACT
09940322437 / 09840728806
Departments:
ECE
EEE
Instrumentation
Mechanical
Energy
Industrial
Telecommunication
Mechanics
Aeronautical
Aerospace
Automobile
Design
PolyTechnic
School
Contact Details
CONTACT 9840728806 / 09940322437
MAIL admin@topengineersindia.com
WEBSITE https://www.topengineersindia.com

EVENTS LINK https://topengineersindia.com/events
INSTAGRAM LINK https://www.instagram.com/topengineersindia
FACEBOOK LINK https://www.facebook.com/topengineersplus
LINKEDIN LINK https://www.linkedin.com/company/top-engineersindia
TELEGRAM LINK https://t.me/topengineerswokshops
YOU TUBE LINK https://www.youtube.com/@topengineersindia
WHATSAPP LINK https://chat.whatsapp.com/LlasRs86b3D63dA3fdhMEO
ONLY LIMITED SEATS PER BATCH AND THE SEATS ARE FILLED ON "FIRST COME & FIRST SERVE
Last Dates for Registration
17.6.23

REGISTRATION WILL BE CLOSED EITHER WHEN ALL SEATS ARE FILLED OR TWO DAYS PRIOR TO THE EVENT.
WE KINDLY URGE YOU NOT TO WAIT UNTIL THE LAST MOMENT AND KINDLY REQUEST YOU TO BOOK YOUR SEATS SOON TO AVOID DISAPPOINTMENT!
Registration Fees
REGISTRATION FEES
INR 1500/- PER PERSON (INDIA) (Including GST )
$100 USD ( FOR OTHER COUNTRIES)
PAY RS.100 /- ADVANCE AND BALANCE RS 1400 TO BE PAID AT VENUE

GROUP DISCOUNT OFFER
Group of 5 & above will get 5% Discount
Group of 10 & above will get 10% Discount
How to reach Top Engineers, Chennai
OFFLINE VENUE : IIT MADRAS RESEARCH PARK
No.32,Kanagam Rd, Kanagam Periyar Nagar, Taramani, Chennai, Tamil Nadu 600113.
(IITM Research park is only a venue and the event is organized by TOPENGINEERS only)
Certificates will be provided to Participants
Related Links:
7 Days International Internship on IC Engines and Electric Vehicles (Hybrid Mode) 2023
Top Engineers
Chennai
Tamil Nadu
June 2023
Internships
Internships in Chennai 2023
Internships in Tamil Nadu
---