SCIMIT 23, Manakula Vinayagar Institute of Technology, Mega Project Contest, Kalitheerthalkuppam, Puducherry, 28th February 2023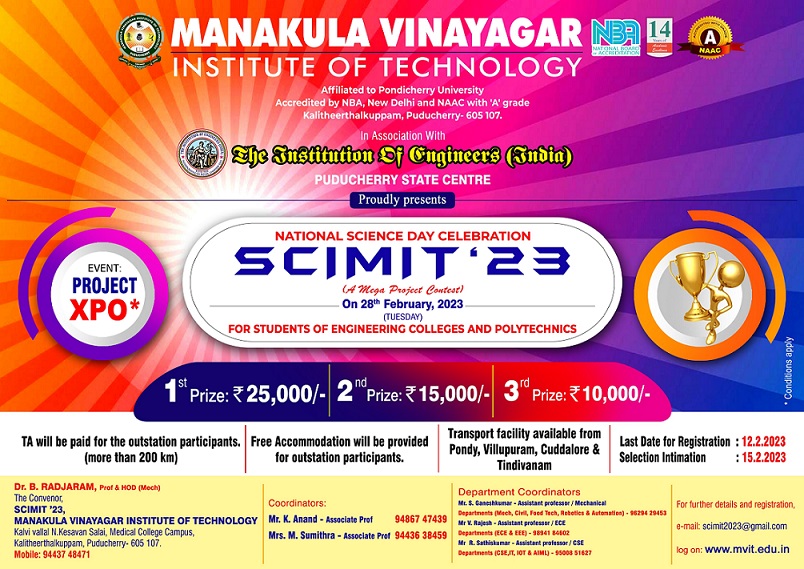 About Event
MEGA PROJECT CONTEST.
1. Maximum 3 members per team.
2. The detailed abstract of half to one page should be submitted as a MS Word document (.doc format only) with Times New Roman font (size 12), Headingsize: 16, single spacing and single column format on or before 12th Feb 2023 to scimit2023@gmail.com with subject as SCIMIT'23- project . 3. A working model to explain a concept, principle or a process of
 An innovative/inexpensive technique.
 Application of basic principles of Science/technology
 Scheme/design of a device to save the world against the natural
disaster (Eg. Flood, Earth quake,& Tsunami etc)
 Energy & its conservation techniques
4. Selected participants will be announced on 15
th Feb 2023 through the E-mail.
Events
The event consists of 2 rounds.
Round I: Display in the exhibition hall for 3hrs. (Marks will be given based on thetheme & mode of display)
The participants have to crack down the Round I to get into the Round II.
Round II: Display in the exhibition hall for 2hrs. (Marks will be given based onthe efficiency, design and performance of application)
Departments:
CSE
ECE
IT
EEE
Instrumentation
Mechanical
Civil
Chemical
Energy
Metallurgy
Industrial
Physics
Ocean
Automobile
Design
Marine
Ocean
How to reach Manakula Vinayagar Institute of Technology, Kalitheerthalkuppam
Manakula Vinayagar Institute of Technology, Kalitheerthalkuppam, Puducherry – 605 107
Certificates will be provided to Participants
Related Links:
SCIMIT 23
Manakula Vinayagar Institute of Technology
Kalitheerthalkuppam
Puducherry
February 2023
Technical Fests
Technical Fests in Kalitheerthalkuppam 2023
Technical Fests in Puducherry
---