Aeronautics Industrial Internship 2023
Aeronautics Industrial Internship 2023, Sky Aerospace, Aero Internship, Bengaluru, Karnataka, 17th April 2023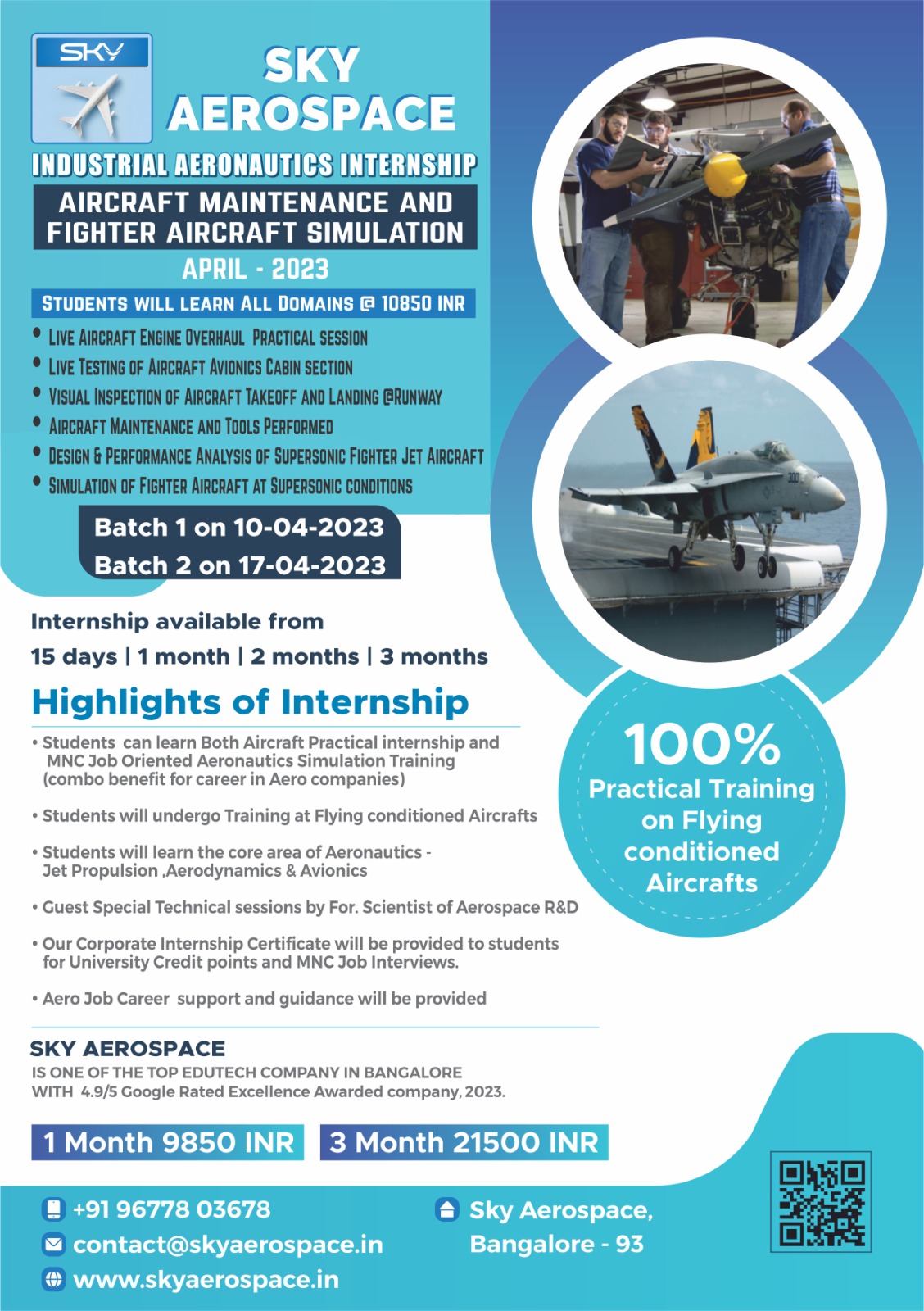 About Event
Title: Live Aircraft Practical Industrial Internship with Simulation of Supersonic Fighter Jet Aircraft –April ,2023
Batch 1 starting from 10th April  2023 
Batch 2 starting from 17th April 2023
Internship Duration: Min 15days – Max 3 months
Students will learn All Domains @ Starting Price 8500 - 10850 INR

• Live Aircraft Engine Overhaul Practical session
• Live Testing of Aircraft Avionics Cabin section
• Visual Inspection of Aircraft Takeoff and Landing @Runway
• Aircraft Maintenance and Tools Performed
• Design & Performance Analysis of Supersonic Fighter Jet Aircraft
• Simulation of Fighter Aircraft at Supersonic conditions
Highlights of Internship
• Students can learn Both Aircraft Practical internship and MNC Job Oriented Aeronautics Simulation Training (combo benefit for career in Aero companies)
• Students will undergo Training at Flying conditioned Aircrafts
• Students will learn the core area of Aeronautics - Jet Propulsion ,Aerodynamics & Avionics
• Guest Special Technical sessions by For. Scientist of Aerospace R&D
• Our Corporate Internship Certificate will be provided to students
for University Credit points and MNC Job Interviews.
• Aero Job Career support and guidance will be provided
SKY AEROSPACE IS ONE OF THE TOP EDUTECH COMPANY IN BANGALORE WITH 4.9 /5 Google Rated
Excellence Awarded company ,2023.
Events
Highlights of Internship
• Students can learn Both Aircraft Practical internship and MNC Job Oriented Aeronautics Simulation Training (combo benefit for career in Aero companies)
• Students will undergo Training at Flying conditioned Aircrafts
• Students will learn the core area of Aeronautics - Jet Propulsion ,Aerodynamics & Avionics
• Guest Special Technical sessions by For. Scientist of Aerospace R&D
• Our Corporate Internship Certificate will be provided to students for University Credit points and MNC Job Interviews.
• Aero Job Career support and guidance will be provided
Workshops
Students will learn All Domains @ 10850 INR
• Live Aircraft Engine Overhaul Practical session
• Live Testing of Aircraft Avionics Cabin section
• Visual Inspection of Aircraft Takeoff and Landing @Runway
• Aircraft Maintenance and Tools Performed
• Design & Performance Analysis of Supersonic Fighter Jet Aircraft
• Simulation of Fighter Aircraft at Supersonic conditions
PPT Topics
\
Event Theme
Aircraft Systems
Departments:
CSE
IT
Instrumentation
Mechanical
Chemical
Energy
Metallurgy
Industrial
MCA
Aeronautical
Aerospace
Automobile
Design
Accommodation
Accommodation Guidance Provided
How to reach Sky Aerospace, Bengaluru
Next to ISRO ,OLD Airport Road 1st Stage, Domlur, Bengaluru, Karnataka 560071
Certificates will be provided to Participants
Related Links:
Aeronautics Industrial Internship 2023
Sky Aerospace
Bengaluru
Karnataka
February 2023
Workshops
Workshops in Bengaluru 2023
Workshops in Karnataka
Internships
Internships in Bengaluru 2023
Internships in Karnataka
---