Hackerrupt 22, Sri Venkateswara College of Engineering Sriperumbudur, Technical Symposium, Sriperumbudur, Tamil Nadu, 8th - 9th October 2022
Useful Links
View Event Website
Poster Link
Category :

Technical Symposium

Event Type:

Venue/Offline Mode

Start Date :

8th October 2022

End Date :

9th October 2022

Location :

Sriperumbudur, Tamil Nadu

Organizer :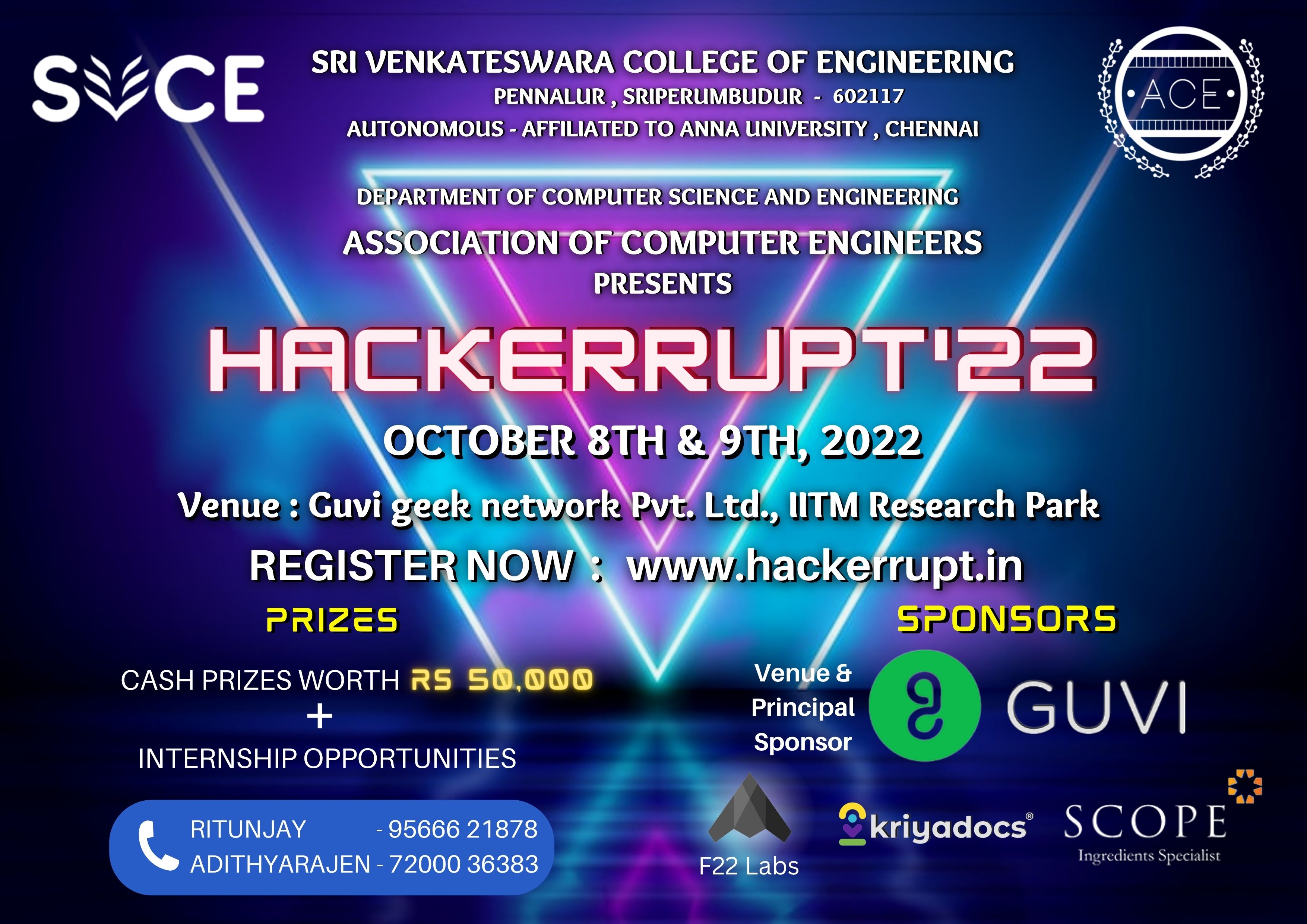 About Event
The Association of Computer Engineers of the Computer Science Department of Sri Venkateswara College of Engineering is proud to announce its flagship event, the 24-hr hackathon, HACKERRUPT'22.
The mission of Hackerrupt'22 is to identify bright young minds and provide them with the ideal stage to display their abilities and innovative concepts in a variety of computer-related fields.
Hackkerupt'20 was the first-ever 24-hour national level inter-college hackathon organized by ACE. It was our maiden voyage where we challenged students by enabling them to tackle real-world problems by providing technological solutions. Industry experts mentored students during the hackathon to better shape their ideas into working models.
Once again, we're all set to pave the way for revolutionary ideas and help them blossom into a reality.
Participants who register are required to submit an abstract of their idea from one of the offered domains. After the screening process, the selected students will be welcomed to the second and final round of HACKERRUPT'22, that will be held on October 8 and 9, 2022, at GUVI GEEK NETWORK PRIVATE LIMITED, IIT Madras Research Park.
Along with attractive gifts and internship offers, winners will receive cash awards worth Rs 50,000!
Event Caption
The Programmers' Marathon
Departments:
CSE
ECE
IT
EEE
Mechanical
BioTechnology
Automobile
How to reach Sri Venkateswara College of Engineering Sriperumbudur
Guvi Geek Network Pvt. Ltd., IITM Research Park,Chennai
Event Sponsors in Sriperumbudur
GUVI Geek Network
Kriyadocs
F22 Labs
Scope Ingredients
Certificates will be provided to Participants
Related Links:
Hackerrupt 22
Sri Venkateswara College of Engineering Sriperumbudur
Sriperumbudur
Tamil Nadu
October 2022
Hackathons
Hackathons in Sriperumbudur 2022
Hackathons in Tamil Nadu
---