SPARDHA 2022, Faculty of Management Studies Institute of Rural Management , Management Fest, Jaipur, Rajasthan, 18th - 19th October 2022
Useful Links
View Event Website
Category :

Management Fest

Event Type:

Online

Start Date :

18th October 2022

End Date :

19th October 2022

Location :

Jaipur, Rajasthan

Organizer :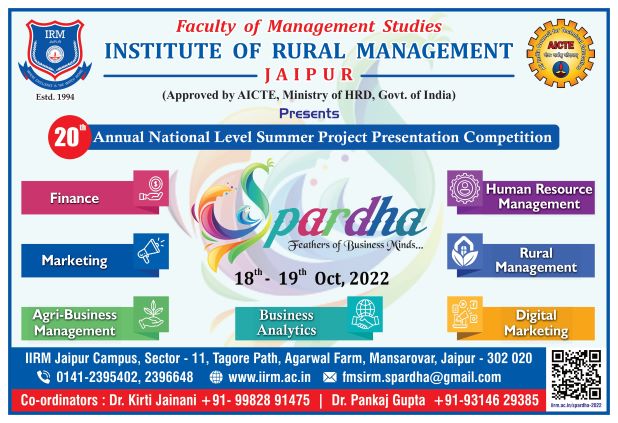 About Event
All that you need to know about Spardha 2022

Event Details:

Only original research project is sought. The contributors should certify that manuscript has neither been published anywhere nor is being considered presently for publication anywhere.
Paper (Not exceeding 5000 words) with abstract and 3-5 keywords with specific titles should be updated on the registration link latest by October 5 2022 in MS Word.
The text for the full paper and abstract must include the title but must not include the author(s) name or affiliation anywhere in the text.
There should be no content in the main paper that suggests the source of the author(s) since the paper will be blind-reviewed.

Guidelines:

All papers must be written in Times New Roman font style, MS word doc format font size 12, 1.5 line spacing,1′′ margin and 8.5′′ × 11′′ page setting.
All headings must be bold and capitalized (Font size 18)
All sub-headings must be bold and italicized (14 font size)
Journals, books and documents should appear in the reference section as follows:
Name of the author (Year of publication), "Title" Journal name volume number, page number, etc.
The suggested modification (if any) needs to be incorporated within 4 days of receipt of the abstract and final paper.
The complete modified camera-ready paper must reach us latest by October 5 2022 in soft copy form.
Events
Projects are invited from the domains of :-
· Marketing
· Digital Marketing
· Finance
· Rural Management
· Agri-Business Management
· Human Resource Management
· Business Analytics
PPT Topics
Power Point Presentation
Event Caption
Feathers of Business Minds
Event Theme
Blue
Departments:
Agricultural
MBA
BBA
How to reach Faculty of Management Studies Institute of Rural Management , Jaipur
IIRM Jaipur Campus, Sector – 11, Tagore Path, Agarwal Farm Mansarovar, Jaipur, Rajasthan 302020
Certificates will be provided to Participants
Related Links:
SPARDHA 2022
Faculty of Management Studies Institute of Rural Management
Jaipur
Rajasthan
October 2022
Management Fests
Management Fests in Jaipur 2022
Management Fests in Rajasthan
Online Events
Online Events in Jaipur 2022
---