Advanced Blockchain Development 2020
Advanced Blockchain Development 2020, Dayananda Sagar Academy of Technology and Management, Workshop, Bengaluru, Karnataka, 28th January - 1st February 2020
Category :

Workshop

Event Type:

Venue/Offline Mode

Start Date :

28th January 2020

End Date :

1st February 2020

Location :

Bengaluru, Karnataka

Organizer :
---
Useful Links
View Event Website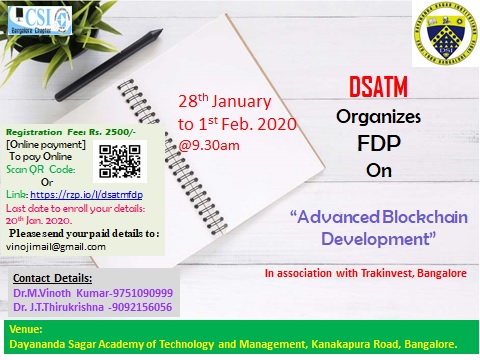 About Event
A Blockchain is a database that is shared across a network of computers. Once a record has been added to the chain it is very difficult to change. To ensure all the copies of the database are the same, the network makes constant checks. Blockchains have been used to underpin digital currency (Bitcoin, Litecoin, Ethereum). The tech allows digital information to be distributed, but not copied. That means each individual piece of data can only have one owner. Using cryptography to keep exchanges secure, blockchain provides a decentralized database, or "digital ledger", of transactions that everyone on the network can see. This network is essentially a chain of computers that must all approve an exchange before it can be verified and recorded.
Events
Prerequisite for the FDP:
Participants would need to bring their 2 core /4 core 16 GB RAM laptops
Workshops
FDP Resource Person:
Mr. Pranav M
Innovation-driven Entrepreneurship
Trakinvest, Bangalore.
PPT Topics
Day 1: Origin Of Blockchain, Introduction to Blockchain, Prerequisites of Blockchain Tech, Deep Dive into Blockchain, Introduction to CryptoCurrencies
Day 2: Applications of Blockchain, Scopes of Blockchain, Introduction to Ethereum, Diving Deep IntoEthereum, setting up tools
Day 3: Basic of Solidity, Advanced Solidity, Developing ADaap Using Remix
Day 4: Developing a Daap using Truffle, HyperLedger Fabric, Hands-On HyperLedger.
Day 5: Hands-on HyperLedger
Event Theme
Blockchain Technology
Departments:
CSE
ECE
IT
MBA
MCA
BBA
How to reach Dayananda Sagar Academy of Technology and Management, Bengaluru
Dayananda Sagar Institutions Kumarswami Layout, Bangalore, Karnataka
Related Links:
Advanced Blockchain Development 2020
Dayananda Sagar Academy of Technology and Management
Bengaluru
Karnataka
January 2020
February 2020
Workshops
Workshops in Bengaluru 2020
Workshops in Karnataka
Faculty Development Programme
Faculty Development Programmes in Bengaluru 2020
---