Personality Development Workshop 2019
PERSONALITY DEVELOPMENT PROGRAM 2k19 - FIND YOUR EVEREST
Category :

Personality Development Program

Event Type:

Venue

Start Date :

22nd December 2019

End Date :

22nd December 2019

Location :

Chennai, Tamil Nadu

Organizer :
---
Useful Links
View Event Website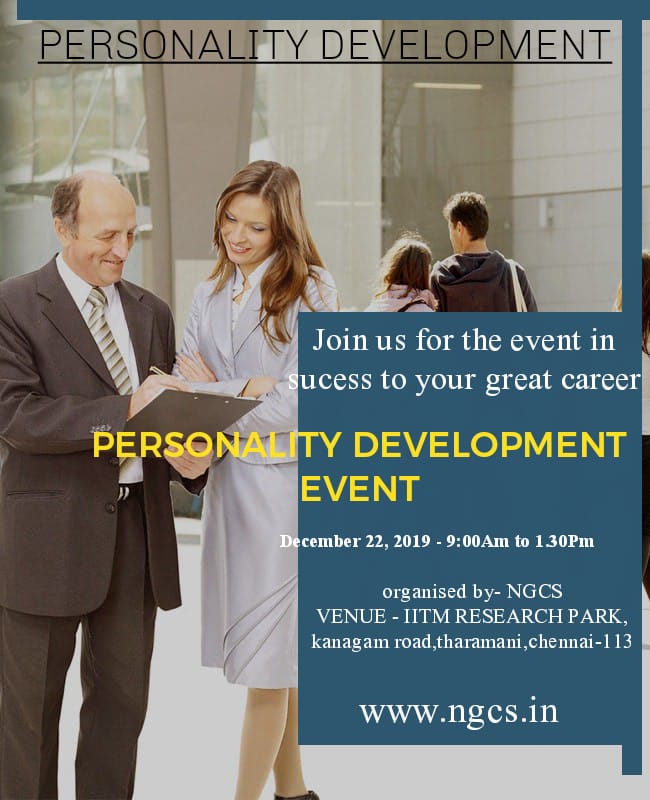 About Event
Event Title:  Personality development program 
Event Date :  22/12/2019  
Timings: 09.00 AM to 01.30 PM  
Event Venue : IIT Madras Research Park
No: 32 kanagam road
kanagam Periyar nagar
Taramani Kanagam Taramani,
Chennai , Tamilnadu- 600113.
Total fee: Rs.500/-
Mode of Payment : Online only.
Certificates will be provided @End of the Program
Note: No age limits those whoever interested to develop their personality and getting fear to face the interview, can't able to involve with the team need to develop their professional skills ,
Here is your path we will motivate you and guide you
FIND YOUR EVEREST!!!!!!
EVENT LINK : http://ngcs.in/events
KIND ATTENTION:
Event has been organized by NGCS ,
NGCS is not associated with IIT Madras or IIT Madras Research Park.
(IIT Madras Research Park is only a Workshop Venue)
Events
Contents:
PERSONALITY DEVELOPMENT TRAINING FOR ME !!!
BUT DO I NEED IT?
Personality Development quintessentially means enhancing and grooming one's outer and inner self to bring about a positive change to your life.
This process includes boosting one's confidence, improving
communication and language speaking abilities, widening ones scope of knowledge, developing certain hobbies or skills, learning fine etiquettes and manners, adding style and grace to the way one looks,talks and walks and overall imbibing oneself with positivity,liveliness and peace.
Self-improvement for college students can not only help set them
part upon graduation, but may also help them lead more complete and fulfilled lives.

Many of these students are looking to complete their degree and join
the workforce as soon as possible, but the journey through college should be about more than just getting a final grade and a diploma.
College should be about self-discovery ,self-improvement, and those that can add this as a priority will experience better job prospects
in their field, as well as happier, more well-rounded lives, when they finish their degree.

Syllabus:
Corporate Etiquette
Voice and accent training
Communication Skills
Behavioral Skills
Interview skills
Personal Grooming
Body language and inter-personal skills
Time management
Discipline
Presentation Skills
Public Addressing
Team Building Skills
Working in a Team
Effective listening
Decision Making Skills
Negotiation Skills
Conflict Management
Crisis Management
Creativity and Problem Solving Skills
Inter-personal Skills
Leadership Skills
Negotiation Skills
Positive Attitude
Business Etiquette
Stress Management
Interview skills

Open for all age limits (school level ,college level and working professionals)
Workshops
Personality Development Workshop
Event Caption
FIND YOUR EVEREST!!!
Departments:
CSE
ECE
IT
EEE
Civil
Chemical
Agricultural
Medical
Pharmacy
Arts
BioTechnology
MBA
MCA
Commerce
Law
BioMedical
Mechanics
Aeronautical
Aerospace
Design
Fashion
Media
BBA
How to reach NGCS, Chennai
IIT Madras Research Park
No: 32 kanagam road
kanagam Periyar nagar
Taramani Kanagam.
Taramani,
Chennai ,
Tamilnadu- 600113
Related Links:
Personality Development Workshop 2019
NGCS
Chennai
Tamil Nadu
December 2019
Workshops
Workshops in Chennai 2019
Workshops in Tamil Nadu
---