1st International Conference on Advanced Light-weight Materials and Structures ICALMS 2K20
1st International Conference on Advanced Light-weight Materials and Structures ICALMS 2K20, CMR Technical Campus, Hyderabad, Telangana, 6th - 7th March 2020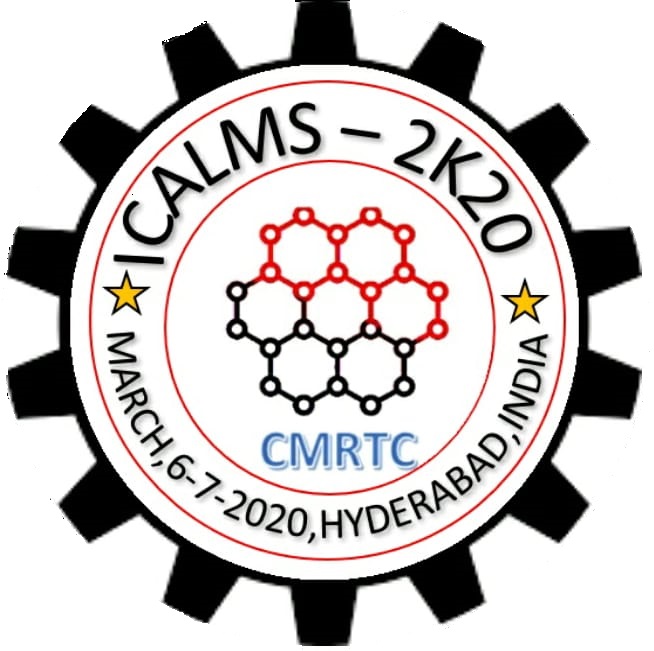 About Event
The aim of this conference is to allow participants an opportunity to discuss the recent developments in the field of Advanced Lightweight Materials, Structures, its various applications and review challenges faced by the research forum in the 21st century. It is committed to excellence in research and teaching, interdisciplinary education and the active promotion of promising young scientists. The conference consists of contributed posters, invited oral and virtual presentations. Best papers will be judged and awarded for each technical session during the conference. Another goal of the conference is to attract researchers from countries of Asia and Asian-Pacific Ocean Region, other countries to fulfillment of joint investigations and scientific collaboration.
Events
paper presentations (oral/poster)
PPT Topics
We Welcome Submissions For ICALMS-2020'S Technical Program In The Following Areas But Not Limited To:
Processing Of Aluminium And Magnesium Alloys
Smart Lightweight Structures
Structural Failure Under Impact, Energy Absorbing Systems And Crashworthiness
Structural Analysis And Optimization
Unconventional Machining And Additive Manufacturing Processes
Composite Materials And Processing
Modeling And Numerical Analysis Of Various Forming Processes
Nano Composites For Light-Weight Structures
Tool Design And Manufacture For Producing Lightweight Components
Design And Manufacturing For Lightweight Components & Structures
Impact And Dynamic Structural Analysis
Vehicle Safety (Automotive, Railways, Aerospace, Motorcycles, Naval)
Material Behavior (Lightweight Alloys, Composites, Polymers, Metals, Foams, Ceramics, Biological Materials)
Impact And Failure Of Structures
Behaviour Of Materials Under Impact And Blast Loading
Joining Techniques For Lightweight Structures For Similar And Dissimilar Materials
Friction Stir Welding In Light-Weight Sandwich Structures
Applications: Aerospace, Automotive, Marine, Defence, Offshore, Civil
Nanotechnology And Micro-Engineering
Biomechanics And Biomedical Engineering
Design For Manufacturing, Reliability And Safety
Mechanical Behaviour Of Lightweight Materials
Robotics, Automation And Control
Fatigue And Fracture Mechanics
Event Guests
https://www.icalms.net/speakers.html
Departments:
Mechanical
Civil
Physics
BioMedical
Mechanics
Textile
Aeronautical
Aerospace
Material
Automobile
How to reach CMR Technical Campus, Hyderabad
Kandlakoya(V), Medchal (M), Hyderabad- 501401, Telengana, India.
Related Links:
1st International Conference on Advanced Light-weight Materials and Structures ICALMS 2K20
CMR Technical Campus
Hyderabad
Telangana
March 2020
Conferences
Conferences in Hyderabad
Conferences in Telangana
---