Breeze 19, Shiv Nadar University, Techno Cultural and Sports Fest, Gautam Budh Nagar, Uttar Pradesh, 8th - 10th February 2019
Useful Links
View Event Website
Category :

Techno Cultural and Sports Fest

Event Type:

Venue/Offline Mode

Start Date :

8th February 2019

End Date :

10th February 2019

Location :

Gautam Budh Nagar, Uttar Pradesh

Organizer :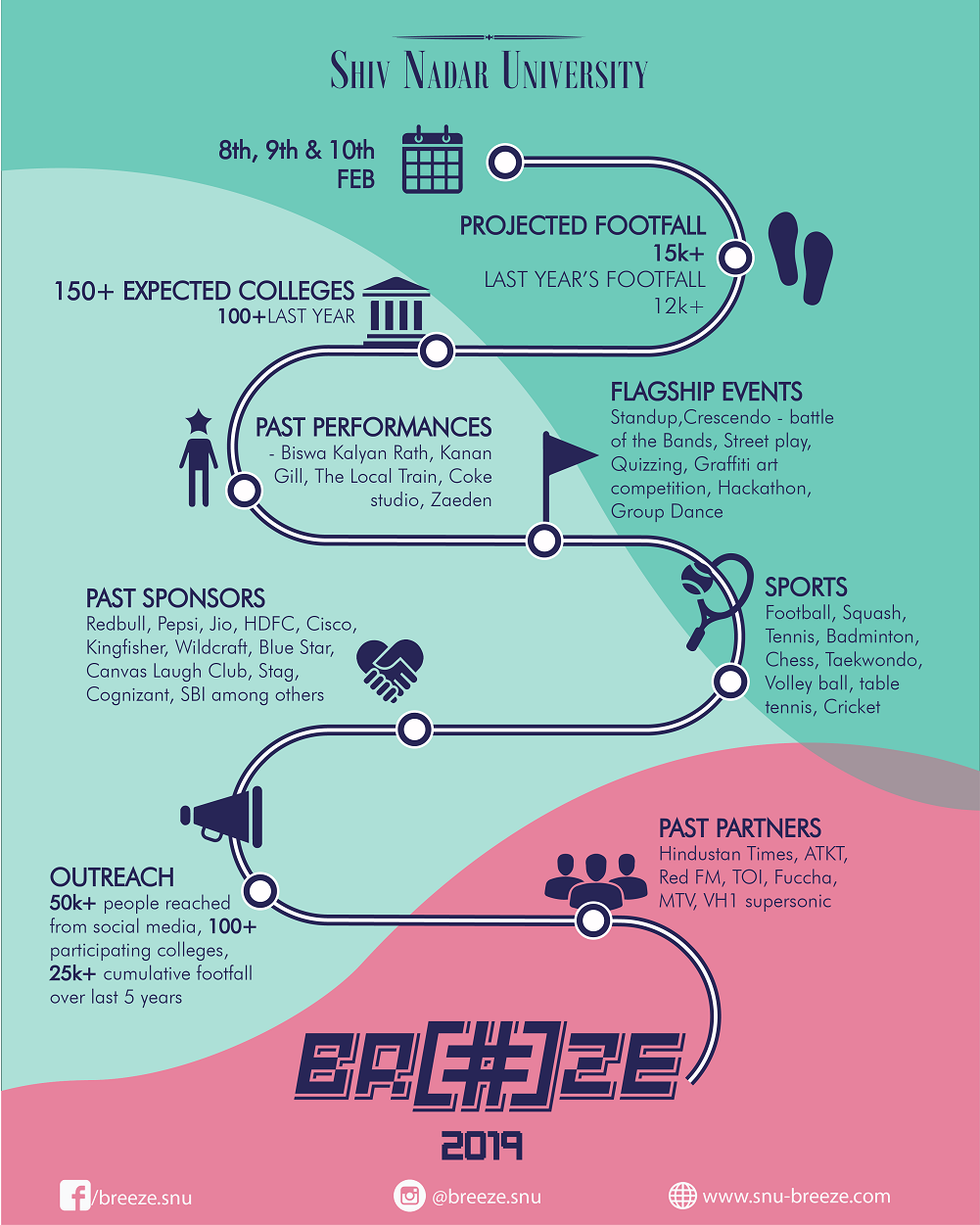 About Event
BREEZE 2019 is Shiv Nadar University's annual sports-cultural-techno fest which is to take place on the 8th, 9th and 10th of February.  Breeze has previously amassed a footfall of over 25000 people from about a 100 colleges across Delhi-NCR. Breeze hosts an array of events, encompassing every field and forte, which is organized by over 40 clubs on campus. The cultural events include categories ranging from the performing arts like dance, music, drama and oration to many more spheres like business, gaming, literary and art. Myriad technical events involving coding, design, robotics etc. are also hosted by the team. The zeal of the fest is as evident on the field as it is in auditoriums and halls, with sports including but not limited to badminton, football, tennis and martial arts as well as indoor sports like chess and table tennis. To add to the excitement, the fest organizes pro-nights each night with performances by renowned music artists, bands, comedians, DJs etc. In BREEZE 2015, Neha Kakkar featured as the star performer followed by a splendid performance by the Indian band Astitva.
BREEZE 2016 was hosted on 4th, 5th and 6th of November, with a whooping footfall of over 7000 participants. We've had the pleasure of hosting Kanan Gill, Zaeden, Hriday Gattani, Paradigm Shift and DJ Sin as our star performers during the three nights.
BREEZE 2018 was the biggest that SNU ever witnessed. With students from over 80+ colleges it was one of the most sought after events in all of NCR. With a plethora of events, an army of people to run the show and biggest footfall of all time, BREEZE 2018 went down in SNU history. The pro nights boasted a star-studded lineup having been host to some of the biggest names in the country - The Local Train, Biswa Kalyan Rath, DJs like Van Moon and Neha&Mallika.
Drop by Breeze 2019, Shiv Nadar University to find out what exactly we have in store for our participants this year!
Events
Technical Events
Robotics & Automation  
Design & Build 
Coding  
Whiz Games
Cultural Events
Music  
Dance 
Drama  
Photography 
Oratory  
Business & Entrepreneurship 
Literary & Quizzing  
Art & Design 
Gaming  
Misc
Sports Events
Badminton (boys)  
Badminton (girls) 
Basketball (male)  
Basketball (female) 
Cricket (male)  
Chess (mix) 
Table Tennis (male)  
Table Tennis (female) 
Football (male)  
Futsal (female) 
Tennis (male)  
Tennis (female) 
Squash  
Volleyball
Event Theme
Break the internet
Departments:
CSE
ECE
EEE
Mechanical
Arts
Commerce
Design
Fashion
BBA
Related Links:
Breeze 19
Shiv Nadar University
Gautam Budh Nagar
Uttar Pradesh
February 2019
Technical Fests
Technical Fests in Uttar Pradesh
Technical Fests in Gautam Budh Nagar
Cultural Fests
Cultural Fests in Uttar Pradesh
Cultural Fests in Gautam Budh Nagar
Sports Fests
---