12th National Marketing Conclave 2021
12th National Marketing Conclave 2021, KIIT School of Management, Marketing Conclave, Bhubaneswar, Odisha, 8th - 21st August 2021
Category:

Marketing Conclave

Start Date: 8th August 2021
End Date:

21st August 2021
Visit Event Website
Event/Registrations Closed
Close
Hope you did not miss it.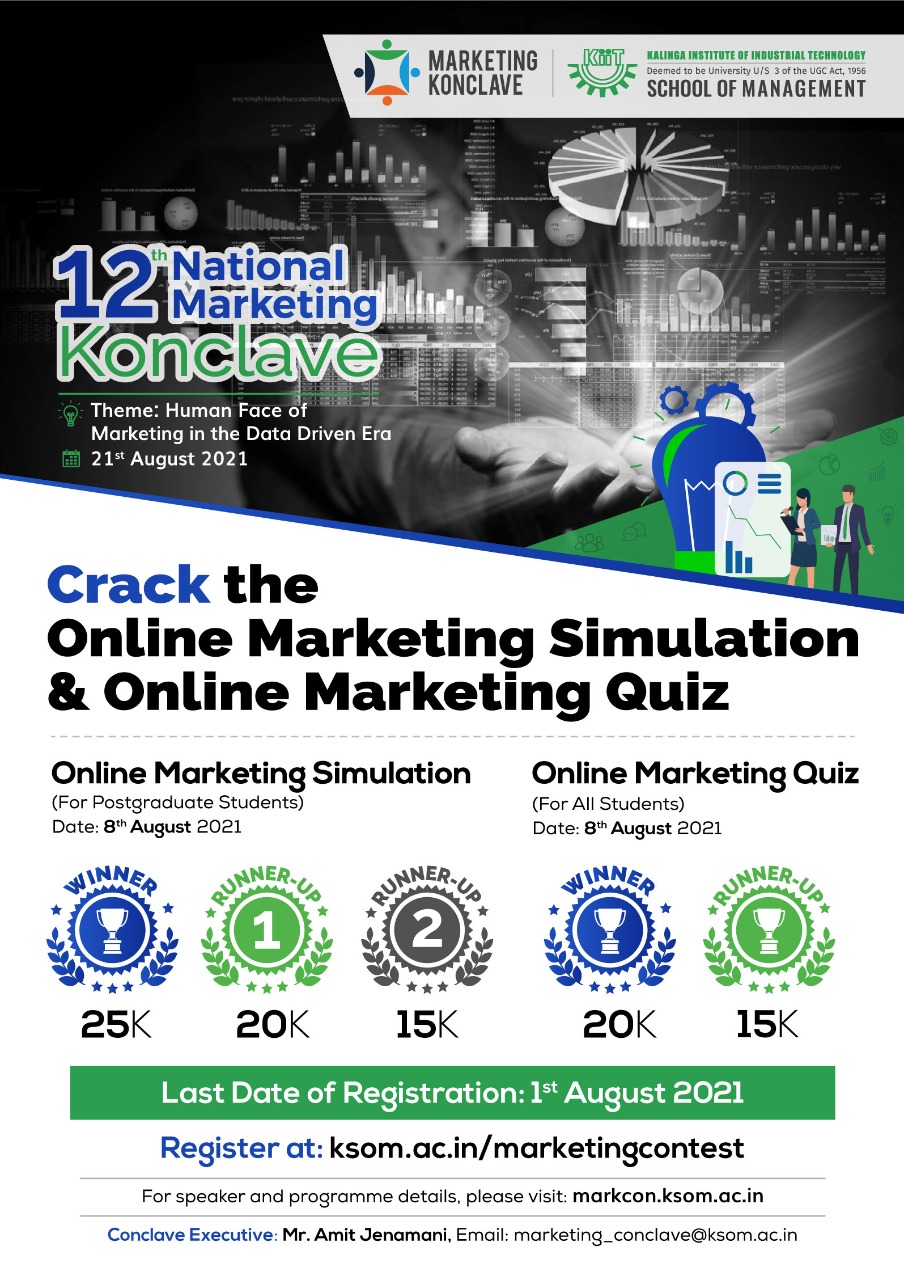 Description
FEST DESCRIPTION :
Human Face of Marketing in the Data Driven Era

This present era is an era of bountiful data churned into information through analytics and whipped-out insight. Marketers need to soul-search whether these so-called marketing
insights are befitting to the core value of marketing function as organizations are not exclusively created for its customer but with a broader purpose to serve mankind. As in most cases marketing research mines consumer data so the possibility of not looking at non-user data is very high. Invariably with
his short-sightedness we lose the focus on human beings.
Further, marketers tend to forget the human side of the consumers in this touchless product and service delivery phase due to the pandemic control protocol. Bur marketers need to adopt this new reality and behave like a marketing-oriented organization full of human-like qualities. Business organizations must promote human-centric marketing approaches which treat consumers as real human beings, not a reference number or consumer ID.
The concept of human-centric marketing which gained momentum during the global pandemic and restriction on human contact is a natural outgrowth of customer-centric marketing and product-centric marketing with the evolution of marketing from sales since the decade 1980 onwards.
In human-centric marketing, marketers approach customers as complete human beings with minds, hearts, and spirits. In human-centric marketing, marketers fulfill not only customers' functional and emotional needs but also address their latent anxieties and desires. In this era of artificial intelligence and robotics, sometimes consumers are feared to lose their own identity. This deepest uncovered
anxieties of consumers may be tapped well by adopting well-defined human-centric approaches touching their body, mind, and soul with well-articulated value propositions by human-to-human connection, not a machine to human artificial interaction.
Events
QUIZ : 8/08/2021
SIMULATION : 8/08/2021
WEBINAR : 21/08/2021
Workshops
Theme 1: In an e-commerce world, driven by consumer reviews, how much influence do marketers have?
Theme 2: Creating successful digital-only brands: What is the secret sauce?
Theme 3: Mass vs Individualized Marketing: What does a marketer need to learn?
Theme 4: Influencer Marketing: The trickle and ripple effect
Theme 5: Challenges faced by budding entrepreneurs in this new data-driven era
Theme 6: Consumer Vulnerability in the digital era
Theme 7: Data Mining and Market Research: How much is too much?
Theme 8: Promoting inclusivity and diversity in society – Promoting new brand stories for Gen Z
Theme 9: Balancing between instinctive and data-driven approach
Theme 10: Ethical and Moral dilemma in the ways of acquiring data
Theme 11: Digital Marketing in the post-pandemic Era
Theme 12: Aligning offerings with changing consumer behaviour during digital transformation
Theme 13: Telling impactful stories with data
Theme 14: Automation in marketing - are we losing the human touch?
Consumers Embrace Experiential Marketing
Event Caption
Human Face of Marketing in Data Driven Era
Popular Cities
Popular States