Quark 2023, BITS Pilani KK Birla Goa Campus, Technical Festival, Goa, Goa, 24th - 26th March 2023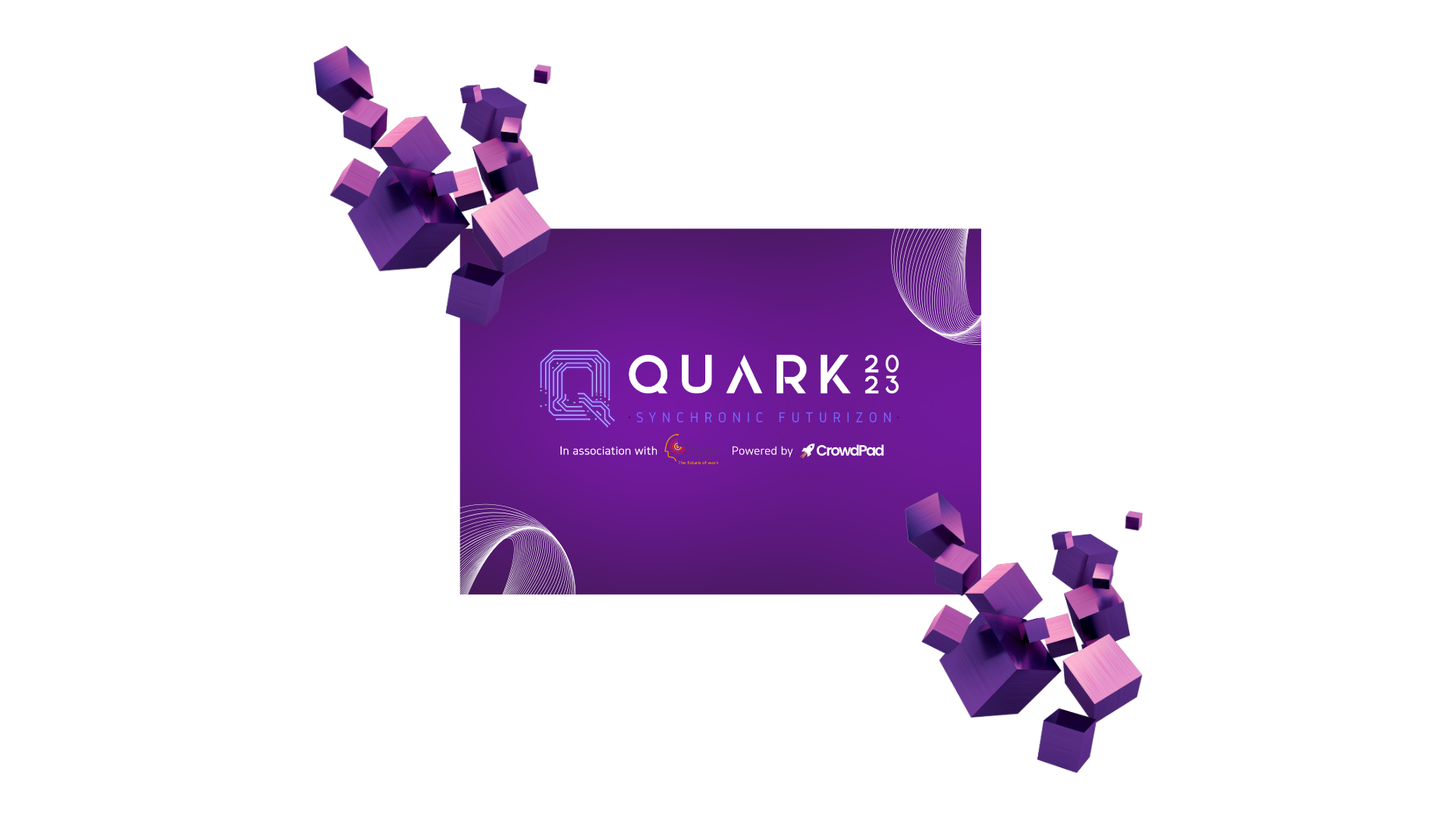 About Event
One of the biggest technical fests in India is back with a bang. Quark'23, the annual technical festival of BITS Pilani Goa, powered by Crowdpad and in association with Giggr Technologies, brings to you a wide range of spectacles from the speedcubing competition, Cubix to one of the most intense Valorant matches you've ever played in Matka, we bring you the technical fest you so long waited for with a whopping twist of performances from some of India's top musicians. And for those not yet ready to compete, we have guest lectures and workshops to help you find your calling. All in all we invite the techie in you to experience an exhilarating weekend and dance to some of the best beats out there!

We begin day 1 with guest lectures by Divakar Vaish, a leading robotics researcher in India. To add to this we have a stock trading workshop by upstox, a UI/UX design workshop by Lollypop design studio and a last one by polygon shedding some light on NFTs and Web3. This we will be ending with a heart soothing performance by none other than Nikhil D'Souza in one of the best designed auditoriums in South India.

For day 2 we bring you insights by Skippi CEO, Ravi Kabra and Raise Capital founder Jay Prakash alongside some of the most demanded workshops in today's tech industry including product management by Sprinklr and a DSA workshop by none other than Geeks for Geeks itself.

The last day is filled with a plethora of activities, lets glance at them in reverse chronological order. The open air concert of Darshan Raval on the main stage at BDome as a closing event will make the festival unforgettable. Preceding that, we have an AI for AI workshop by IBM, which will provide a closer look at the future of information and computation. Also a follow up on DSA workshop by GFG is organized to brush up your concepts and provide the attendies with additional resources. And to top it up, we have Guest lectures by Forbes MD, Ashok Barath, and ex wing commander, Commander PK Dhaka along with a snappy UI/UX workshop, by Lollypop design studio to make you the "complete" developer.
Events
Quark '23 Logo
Events
Workshops
Nights
Guest Lectures
Exhibitions
Sponsors
Our Team


Events


ROBOFICIAL

Robowars

A metal-crushing,circuit-frying battle royale at robowars:The ultimate test of robotic supremacy


Roborace

Experience the thrill of the race as cutting-edge robots compete for the top spot in a lightning-fast dash to the finish line.


Robosoccer

A mind-boggling display of robotic athleticism at RoboSoccer: The world's most advanced robots competing for glory on the field


time challenge

Get ready to put your engineering skills to the test at Time Challenge, where you'll build a lightning-fast line follower that can tackle any circuit and race to the finish line in record time.


Roboclench

Get ready to witness the ultimate test of robotic dexterity as machines with claws battle it out to pick up and hold on tight to victory at RoboClench


Mazerunner

If you're passionate about robotics and love a good challenge, then Maze Runner is the event for you! Build a line follower that can flawlessly follow any circuit and put your skills to the test.


Corporate

Regalia

Join us at Regalia to be held during Quark, the biggest techno-management fest of India held at BITS-Pilani, Goa Campus and manifest your dream of having a shark tank like experience.


Case crackdown

Calling all aspiring strategists and marketers! Join Case Crackdown and take on real-world business challenges.


Policy Mavericks

Ready to take on a challenge? Join Policy Mavericks, the premier business case study competition, and put your skills to the test.


Bullion beatdown

Put your trading skills to the test in our intense market competition featuring gold trading and negotiations


Programmers inc

Codejam

Calling all coding enthusiasts! Compete with the brightest minds and test your coding skills in our upcoming coding competition!


fools coding

Be the Bond of programming and figure out what is the hidden source code by looking at its behavior on your inputs.


hackathon

Calling all developers, designers, and tech enthusiasts! Come and showcase your skills at our upcoming hackathon and compete for exciting prizes!


codewars

Are you ready for a coding challenge like no other? Join our 1v1 event where solving problems not only earns you points, but also strategically prevents your opponent from gaining them


bits ctf

Are you a hacker, coder, or just passionate about cybersecurity? Compete in our Capture the Flag and see if you have what it takes to come out on top


Matka

valorant

Get your team ready and join the ultimate Valorant tournament. Prove your worth, master your aim, and become the champion. Are you up for the challenge?


fifa

Are you ready to take on the world's best and claim victory? The arena is waiting for you, so lace up your boots and let's play!


Blockchainify

dapp-athon

Join us for dApp-athon, where you'll compete to create the best and most innovative decentralized applications based on themed challenges that showcase the latest in blockchain technology.


cryptomania

Are you a crypto trading pro? Put your skills to the test and compete to win big in our upcoming competition. Join now.


anftee

Get ready to soar to new heights and blaze your own trail in the world of aviation - join us for Trailblazers, the thrilling plane-building competition where speed and agility reign supreme!


Design And Build

burnout

Get ready to burn rubber and leave the competition in the dust at Burnout, the electrifying robot car racing event!


Search and rescue

Are you ready to put your engineering skills to the test and make a difference in the world? Join us at 'Search and Rescue' and design a drone to deliver critical medical supplies in record time!


trailblazers

Get ready to soar to new heights and blaze your own trail in the world of aviation - join us for Trailblazers, the thrilling plane-building competition where speed and agility reign supreme!


School Bag

quiz

Join us on campus to witness the culmination of months of hard work - a group project presentation showcasing innovative ideas and cutting-edge technology


debate

Join us for the Schoolbag 2023 Debate and showcase your verbal prowess in a battle of wits and rebuttals - the ultimate test of your persuasive skills!


enigmatica

Join us for Enigmatica - an exciting and challenging exam that requires no prerequisites and puts your mental prowess to the ultimate test!


Elixir

ganimatoonics

Get ready to test your knowledge and unravel the secrets of Ganimatoonics with our exciting quiz - an adventure awaits!


quark national quiz

Are you ready to put your grey matter to the test? Join us at Quark'23 National Quiz and compete against the brightest minds in the nation for a chance to win exciting prizes!


Electrify

digilogica

Do you think that Digital Design is just a boring course , just about gates and logic? Well, you're in for a huge surprise!


μC MANIA

This event is very flexible with the microcontrollers the participant wants to use. Test your Arduino skills and race to the top!


Cubix

Cubix

Twist, Turn, and Triumph: The Ultimate Rubix Cube Showdown


Specials

paper presentation

Get ready to put your research skills to the test and compete for a chance to present your paper at our Paper Presentation! Submit your abstract now and show us what you've got
Event Theme
Synchronic Futurizon
Departments:
CSE
ECE
IT
EEE
Civil
Chemical
Aerospace
Certificates will be provided to Winners
Related Links:
Quark 2023
BITS Pilani KK Birla Goa Campus
Goa
Goa
March 2023
Technical Fests
Technical Fests in Goa 2023
Technical Fests in Goa
---