Zephyr 2023, IPS College of Technical Education, Techno Management Festival, Jaipur, Rajasthan, 10th - 12th February 2023
Category :

Techno Management Festival

Event Type:

Venue/Offline Mode

Start Date :

10th February 2023

End Date :

12th February 2023

Location :

Jaipur, Rajasthan

Organizer :
---
Useful Links
View Event Website
Poster Link
Email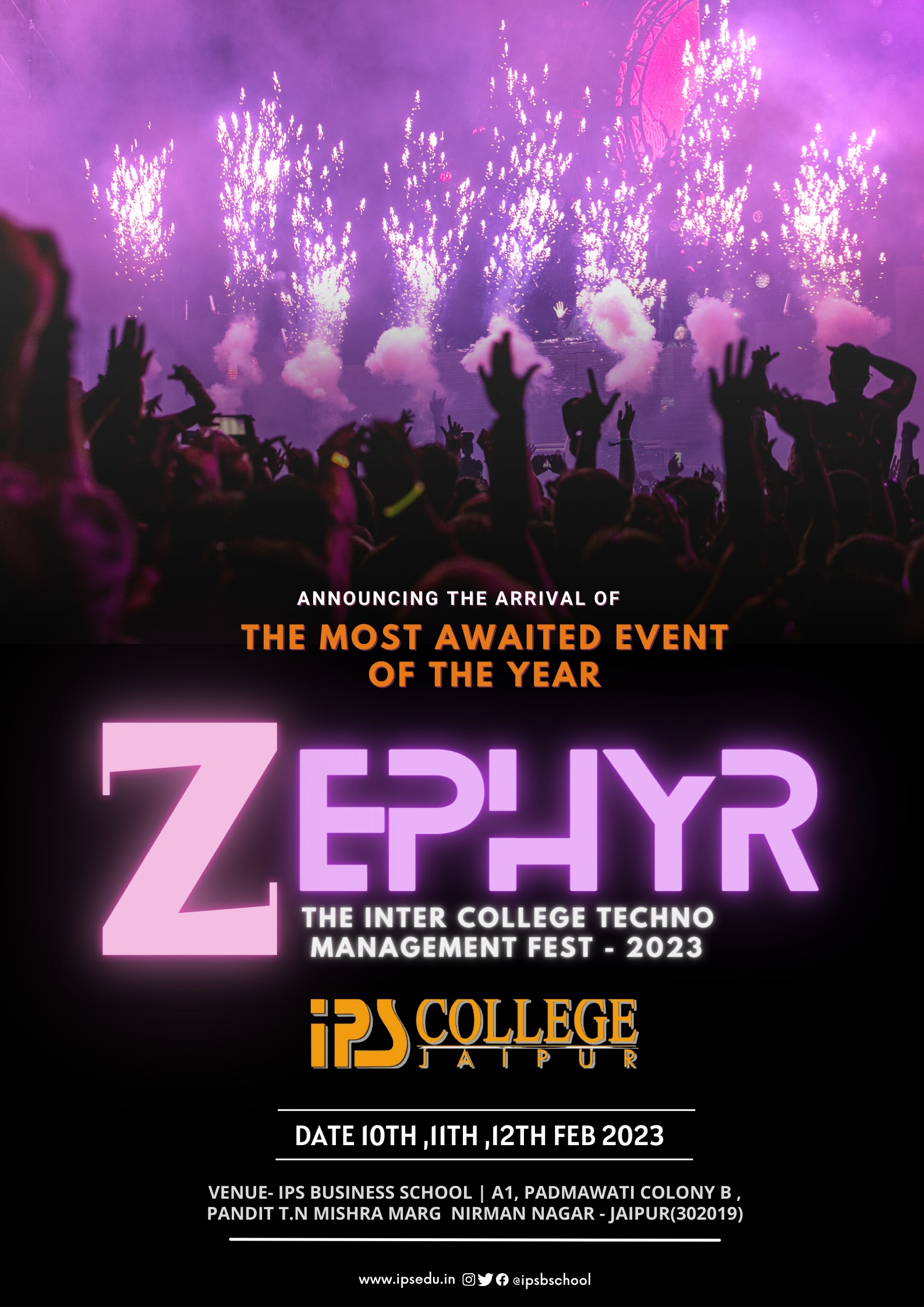 About Event
Welcome to the Zephyr College Fest ! Zephyr is an Annual event organized by IPS College Jaipur that showcases the talents of our students and brings together the college community for a fun-filled celebration.
This year's Zephyr will be held on February 10th, 11th and 12th, and promises to be an exciting event with a variety of events and activities.
The fest will feature a wide range of events, including dance and singing competitions, a fashion show, and coding competitions. These events will provide our students with the opportunity to showcase their talents and compete against their peers in a fun and supportive environment.
We are also excited to announce that we will be having some of the well-known celebrities as the chief guest and judges for the events. This will provide our students with the opportunity to interact with and learn from industry professionals.
In addition to the competitions, Zephyr will also feature a variety of other activities, such as food stalls, games, and live music. We're also planning to have some workshops, which will be conducted by some professionals in their respective fields.
We invite all students, faculty, staff, and members of the community to come out and join us for this exciting event. We're looking forward to seeing you at Zephyr and celebrating the talents and achievements of our students.
In addition to the exciting events and activities, we would like to extend a special invitation to all alumni of IPS College Jaipur to come and join us for Zephyr. It's a great opportunity to reconnect with old friends and reminisce about your time at the college. We will be having an alumni meet during the fest, where you can catch up with your batchmates and share your experiences with the current students. We would be honored to have you back on campus and be a part of the celebration.
We also extend an open invitation to all parents, families and friends of our students to come and experience the vibrant culture and community at IPS College Jaipur. We encourage you to come and support your loved ones as they showcase their talents and achievements.
Mark the dates on your calendar and don't miss the chance to be a part of this exciting event. We look forward to welcoming you to IPS College Jaipur for Zephyr College Fest.
Events
1. STOCK MANIA
2. SOFTECH
3. TADKA WITHOUT FIRE
4. CREATIVE AND ART DESIGNING
5. MEMORIES
6. MARKTECH
7. QUIZZYPEDIA
8. SINGING
9. FREE FIRE/ BGMI(MOBILE E-SPORT
10. WASTE TO WOW
11. COOKIEMANIA
12. SHARK TANK
13. SCRIPT-O-MANIA
14. KING OF CODES
15. SPECTACLES
16. DANCE
17. ZEPHYR VOGUE GALA(FASHION SHOW)
Event Guests
Not finalised yet
Pro Nites
Not finalised yet
Event Theme
Youth Festival
Departments:
IT
MBA
BBA
Accommodation
Not confirmed yet
Contact Details
Dr. Mridula Sharma
7891208899
Last Dates for Registration
5TH FEB 2023
Registration Fees
NO REGISTRATION FEES
Zephyr 2023 Event Updates No suggestions How to reach IPS College of Technical Education, Jaipur
IPS BUSINESS SCHOOL A 1, Padmawati Colony - B, Pandit T.N. Mishra Marg, Nirman Nagar, Jaipur, Rajasthan, INDIA - 302019.
Event Sponsors in Jaipur
Yakult, Nestcafe, Bajaj, AU Bank and many more
Certificates will be provided to Participants
Related Links:
Zephyr 2023
IPS College of Technical Education
Jaipur
Rajasthan
February 2023
Technical Fests
Technical Fests in Jaipur 2023
Technical Fests in Rajasthan
Management Fests
Management Fests in Jaipur 2023
Management Fests in Rajasthan
Literary Fests
Literary Fests in Jaipur 2023
Literary
---