Cyber Cypher 2.0, Mukesh Patel School of Technology Management and Engineering, Online Hackathon, Mumbai, Maharashtra, 21st - 22nd January 2023
Useful Links
View Event Website
Poster Link
Brochure Link
Category :

Online Hackathon

Event Type:

Offline and Online Mode

Start Date :

21st January 2023

End Date :

22nd January 2023

Location :

Mumbai, Maharashtra

Organizer :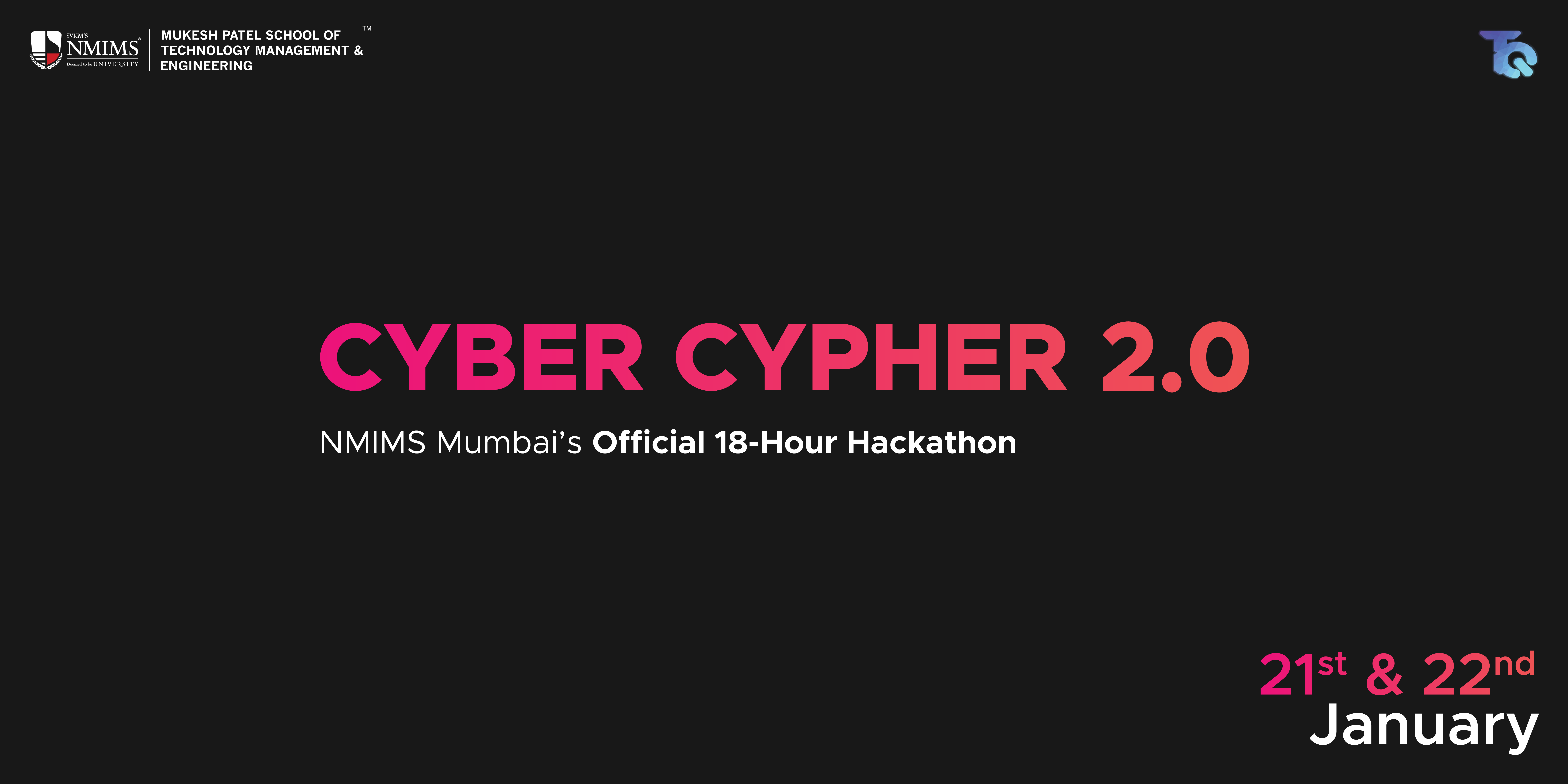 About Event
NMIMS-MPSTME's official tech fest TAQNEEQ 15.0 is back with its precursor event, Cyber Cypher 2.0!

An 18-hour hackathon that seeks to provide aspiring and seasoned programmers with a platform to open up channels that will help them unlock countless possibilities in a dynamic subject such as computer science.

Participants can select from the following degrees of difficulty:
1. Elementary Level - Utilise the foundations of programming to swiftly and accurately solve a problem statement.
Theme: Development for Sustainability

2. Advanced Level - In a time crunch, create a programme to analyse data sets using Artificial Intelligence.
Theme: Natural Language Processing

Refer to this booklet for further details: http://cybercypher.taqneeqfest.com/InformationBooklet

If qualified, the participants would be promoted to the final and hybrid round that will be held on the second and third days of TAQNEEQ 15.0.

- A prize pool of 75,000 Rupees.
- Certificates for all participants.
- Internship opportunities.

Dates: 21st & 22nd January 2023 (Qualifier Round)
Mode: Online
Registration Fee: 275/-
Registration Link: https://cybercypher.taqneeqfest.com/register
Official Instagram: http://lnkiy.in/CyberCypher

Feel free to contact us for any queries at:
Satyajeet Kadu: wa.me/918369522946
Nidhi Santani: wa.me/918408099002
Event Guests
Guests from top tech companies such as microsoft,amazon,google etc
Event Caption
"Cracking the code to innovation at Cyber Cypher."
Event Theme
Software Development and Natural Language Processing
Departments:
CSE
IT
Cyber Cypher 2.0 Event Updates taqneeq.pr@gmail.com Event Sponsors in Mumbai
taqneeq.pr@gmail.com
Certificates will be provided to Participants
Related Links:
Cyber Cypher 2.0
Mukesh Patel School of Technology Management and Engineering
Mumbai
Maharashtra
January 2023
Online Events
Online Events in Mumbai 2023
Hackathons
Hackathons in Mumbai 2023
Hackathons in Maharashtra
---