Vidyutrenz 2k21, Chennai Institute of Technology, Technical Symposium, Chennai, Tamil Nadu, 8th May 2021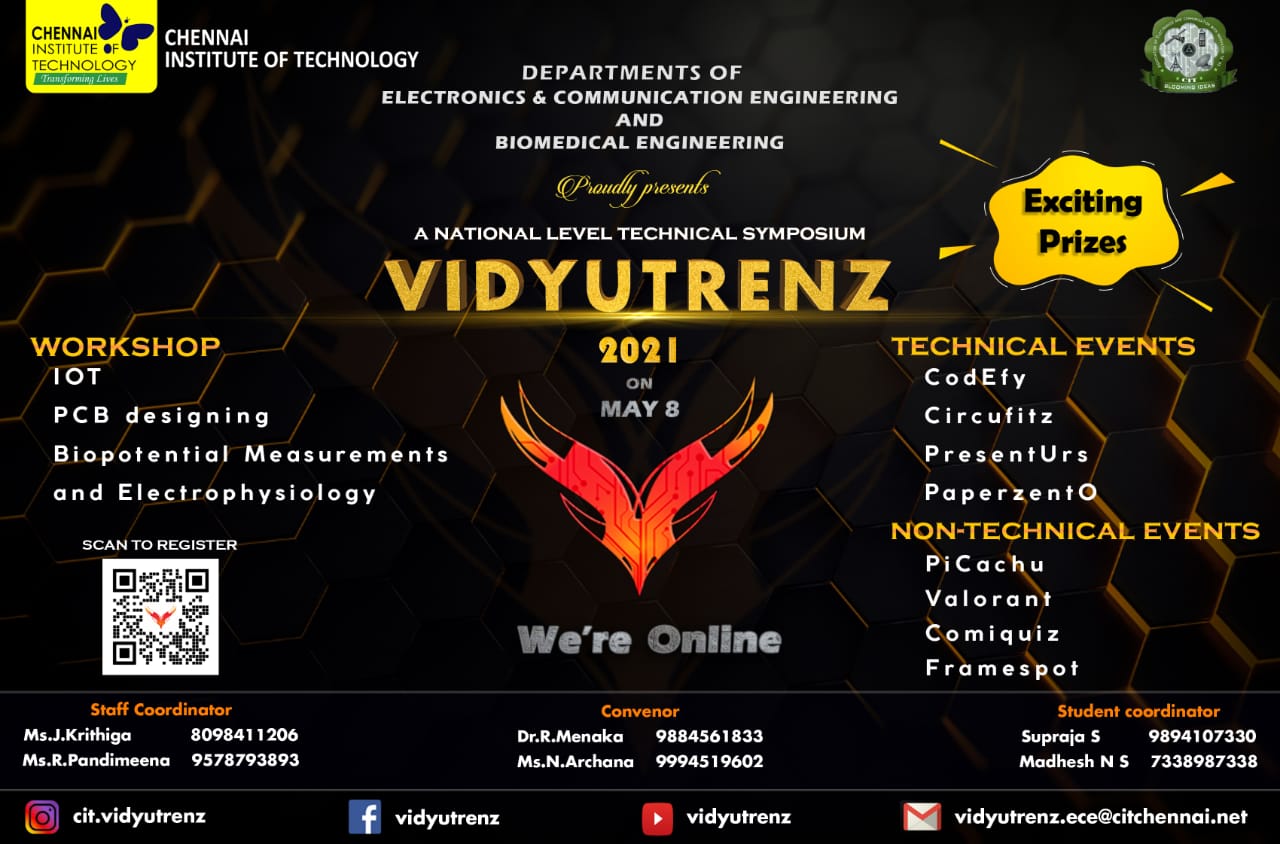 About Event
Vidyutrenz 2k21 is a National level virtual symposium conducted by the Departments of Electronics and Communication Engineering and Biomedical Engineering, allowing students to showcase their technical and non-technical skills through a set of brand-new events. This symposium is an incredible opportunity for aspiring students to exhibit their creative ideas and talents. You are sure to be left with insightful events. We cordially invite everyone to engage in these activities that will enable you to hone your skills.
Events
TECH EVENTS
1. Paperzento
2. Circufitz
3. Presenturs
4. Codefy

NON TECH EVENTS
1. Framespot
2. Comiquiz
3. Picachu
4. Valorant
Workshops
1.PCB Designing
2.Internet Of Things
3.Biopotential Measurements and Electrophysiology
PPT Topics
Presentations must be in the domain of ECE and BME
Event Caption
Transform your thoughts into reality and get a chance to make an impact with your idea.
Event Theme
Virtual
Departments:
ECE
How to reach Chennai Institute of Technology, Chennai
Virtual
Related Links:
Vidyutrenz 2k21
Chennai Institute of Technology
Chennai
Tamil Nadu
May 2021
Technical Fests
Technical Fests in Chennai 2021
Technical Fests in Tamil Nadu
Workshops
Workshops in Chennai 2021
Workshops in Tamil Nadu
Symposiums
Symposiums in Chennai 2021
Symposiums in Tamil Nadu
Online Ev
---