Trussathon 2020, VIT University Chennai Campus, 24 Hour Truss Building Competition, Chennai, Tamil Nadu, 19th - 20th March 2020
Useful Links
View Event Website
Brochure Link
Category :

24 Hour Truss Building Competition

Event Type:

Venue/Offline Mode

Start Date :

19th March 2020

End Date :

20th March 2020

Location :

Chennai, Tamil Nadu

Organizer :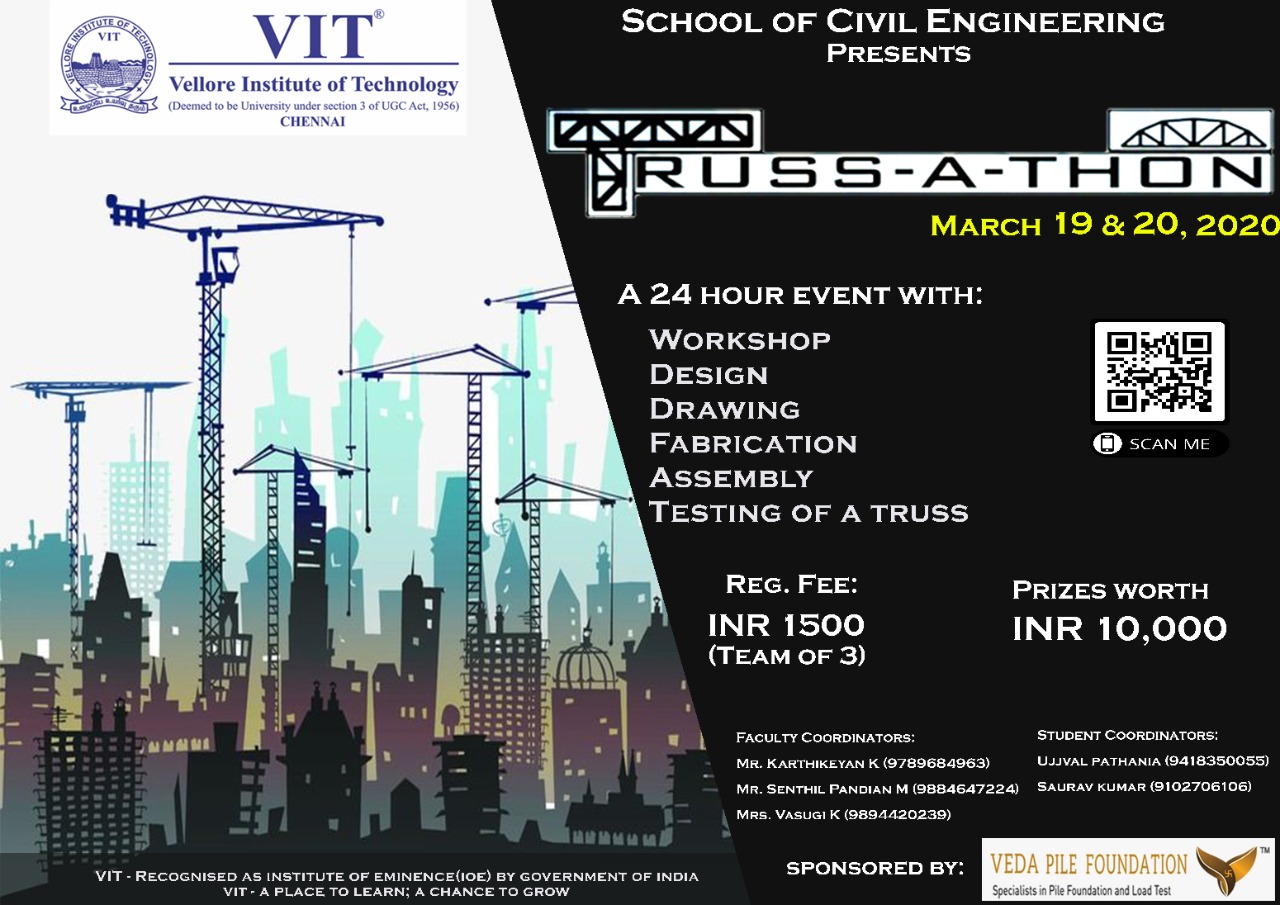 About Event
Greetings!

School of Civil Engineering, Vellore Institute of Technology, Chennai is hosting a 24 hour truss building event at our campus.

The event will give a platform for the young budding Civil Engineers and Structural Engineers to show case their talent in steel design. The competition is a 24 hour event which includes design, drafting, physical model fabrication and testing of the truss. The event will enable participants to understand the process of design, drafting, execution and testing of a truss structure.

The event starts with a workshop on truss design, preparation of structural drawing and fabrication sketches followed by the design statement. The students have to design the truss STAAD-Pro software for given span & loads and to prepare structural drawing and fabrication sketches (AutoCAD). Once the fabrication sketches are done, they need to fabricate and erect the truss. The testing of truss will be done in the Structural
Engineering lab. Evaluation includes maximum load carrying capacity, geometry, fabrication tolerance, etc.

Team Maximum of 3 per team (at least one male student is a must)

Date: 2.00 pm, 19-03-2020 to 5.00 pm, 20-03-2020

Registration fee: Rs. 1500 per team.

Accommodation will be provided on payment basis. Kindly contact the coordinators for the accommodation arrangements.

Regards,
Coordinators
Truss-a-thon
School of Civil Engineering
Vellore Institute of Technology, Chennai

email: trussathon.sce.vitcc@gmail.com
Facebook: vitcctrussathon


Faculty Coordinators
Mr. Karthikeyan K (9789684963)
Mr. Senthil Pandian M (9884647224)
Mrs. Vasugi K (9894420239)

Student Coordinators
Ujjval Pathania - 94183 50055
Saurav Kumar - 9102706106
Events
Short workshop on truss design, designing for the problem statement, drawing (structural and fabrication sketches), assembling and testing.
Event Theme
Steel Truss - Making and Testing
Departments:
Civil
How to reach VIT University Chennai Campus, Chennai
Chennai Campus Vandalur - Kelambakkam Road Chennai - 600 127
Related Links:
Trussathon 2020
VIT University Chennai Campus
Chennai
Tamil Nadu
March 2020
Technical Fests
Technical Fests in Chennai 2020
Technical Fests in Tamil Nadu
---