International Conference on Civil Engineering, Allied Science and Engineering ICCASE 2020
International Conference on Civil Engineering, Allied Science and Engineering ICCASE 2020, Sri Chandrasekharendra Saraswathi Viswa Mahavidyalaya, Kanchipuram, Tamil Nadu, 26th - 27th March 2020
Registrations Closed
View Event Website
Event Type:

Venue/Offline Mode

Start Date :

26th March 2020

End Date :

27th March 2020

Location :

Kanchipuram, Tamil Nadu

Organizer :

Category :

International Conference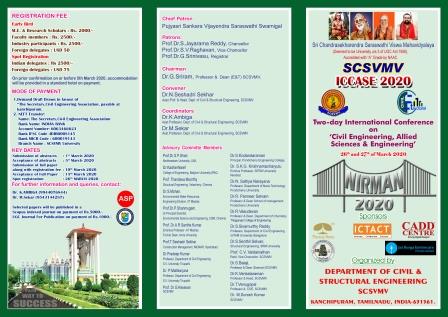 About Event
The Department of Civil & Structural Engineering, SCSVMV organizing an International Conference on Civil Engineering, Allied Science & Engineering during 26 - 27 March 2020.

The Conference brochure is attached with this for your kind perusal. We request you to kindly circulate the details enclosed in the brochure to the interested candidates in your department and encourage them to participate in the conference. We also request you to kindly arrange display the brochure in the notice board.

Internationally reputed speakers will deliver keynote address in each specialization. Selected papers will be considered for publication in Journal by reputed publishers. Also participation certificate will be distributed to the candidates.

Looking forward for your cooperation in this regards.
Workshops
CONFERENCE
PPT Topics
Civil Engineering, Allied Science & Engineering
Event Guests
Prof.Dr.FAUZIAH AHMAD
SCHOOL OF CIVIL ENGINEERING, UNIVERSITI SAINS MALAYSIA.

Prof.Dr.UBAGARAM JOHNSON ALENGARAM
DEPARTMENT OF CIVIL ENGINEERING,
FACULTY OF ENGINEERING, UNIVERSITY OF MALAYA, MALAYSIA.
Departments:
Civil
Accommodation
9944076844 – Dr.K.Ambiga Sasikumar / Asst.Prof (II) /SCSVMV (Deemed to be University)

9543144287 – Dr. M.Sekar / Asst.Prof (I) /SCSVMV (Deemed to be University)
International Conference on Civil Engineering, Allied Science and Engineering ICCASE 2020 Event Updates 9944076844 – Dr.K.Ambiga Sasikumar / Asst.Prof (II) /SCSVMV (Deemed to be University) 9543144287 – Dr. M.Sekar / Asst.Prof (I) /SCSVMV (Deemed to be University) How to reach Sri Chandrasekharendra Saraswathi Viswa Mahavidyalaya, Kanchipuram
Sri Chandrasekharendra Saraswathi Viswa Mahavidyalaya,
Sri Jayendra Saraswathi Street,
Enathur,Kanchipuram-631561,
TamilNadu, India
Related Links:
International Conference on Civil Engineering
Allied Science and Engineering ICCASE 2020
Sri Chandrasekharendra Saraswathi Viswa Mahavidyalaya
Kanchipuram
Tamil Nadu
March 2020
Conferences
Conferences in Kanchipuram 2020
Conferences in Tamil Nadu
---