VIYUGAM 2K19, JKK Munirajah College of Technology, Techno Cultural and Sports Fest, T.N.Palayam, Tamil Nadu, 14th - 15th February 2019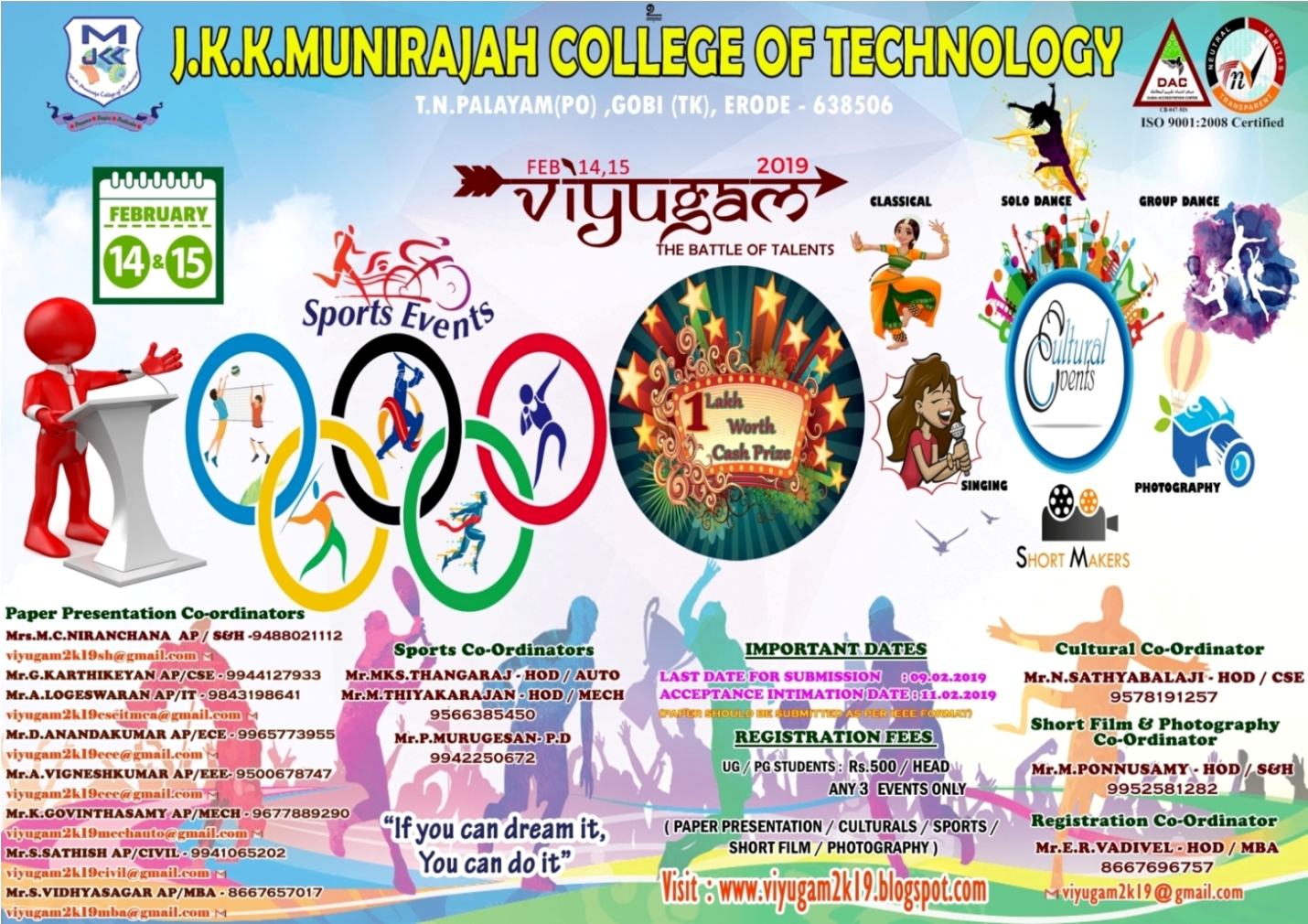 About Event
We hereby take immense pleasure in inviting you all for "TWO DAYS NATIONAL LEVEL TECHNO CULTURAL SPORTS FEST"-'VIYUGAM 2K19' Organized by our college on 14th & 15th of February 2019 at our college campus.
VIYUGAM-2K19 aims at lapping the immense potential and unleashing the creativity of the student in different domains of in all departments, thereby providing new avenues for the students to exhibit their multidimensional talents.
The participants are provided with an ample opportunity to realize their potential and will have an exhilarating experience by participating in the proposed events.
We shall be thankful to you, if you could encourage and inspire the students of your college personally and also through your faculty members for active participation in the events.
Events
PAPER PRESENTATION
(Department wise)
CULTURALS
PHOTOGRAPHY
SHORT FILM
SOLO DANCE
GROUP DANCE
SINGING
FASHION SHOW
SPORTS
CRICKET
WOMEN THROW BALL
MEN
SHOT PUT
JAVELIN THROW
100 M RUNNING
200 M RUNNING
400 M RUNNING
WOMEN
SHOT PUT
JAVELIN THROW
100 M RUNNING
200 M RUNNING
400 M RUNNING
PPT Topics
NO TOPICS RESTRICTION
Departments:
CSE
ECE
IT
EEE
Mechanical
Civil
MCA
Automobile
Accommodation
Accommodation will be provided for outstation participants (More than 120 kms)on the basis of first come first serve.
How to reach JKK Munirajah College of Technology, T.N.Palayam
-COLLEGE IS LOCATED IN SATHYAMANGALAM -ATHANI-BHAVANI MAIN ROAD
-FROM ERODE->GOBICHETTIPALAYAM ->10KM(COLLEGE)
-FROM SATHYAMANGALAM 12 KM
Related Links:
VIYUGAM 2K19
JKK Munirajah College of Technology
T.N.Palayam
Tamil Nadu
February 2019
Technical Fests
Technical Fests in Tamil Nadu
Technical Fests in T.N.Palayam
Cultural Fests
Cultural Fests in Tamil Nadu
Cultural Fests in T.N.Palayam
Sports Fests
Sports Fests in Tamil Nadu
Sports Fes
---