ELECTTRICO 2K19, Karpagam Academy of Higher Education, EEE Symposium, Coimbatore, Tamil Nadu, 20th February 2019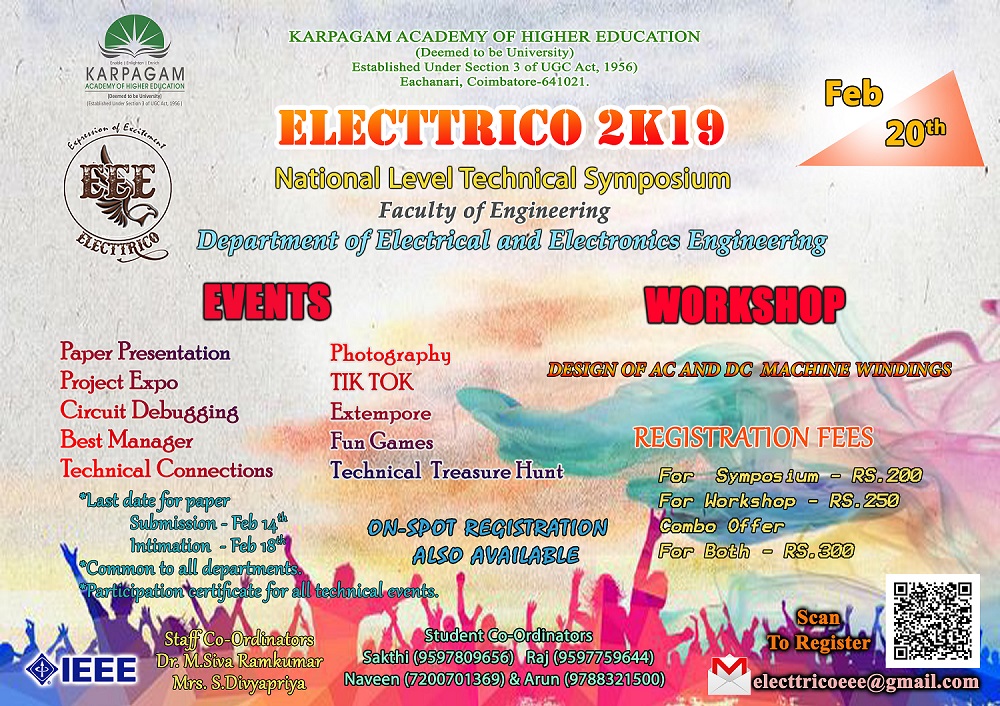 About Event
A symposium is a public meeting about a topic in which people give presentations. ... A symposium can be a one-time conference or a regular meeting, but it will probably include some amount of discussion or public speeches on a particular subject.
Events
Paper Presentation
Project Expo
Circuit Debugging
Best Manager
Technical Connections
Photography
TIK TOK
Extempore
Fun Games
Technical Treasure Hunt
Workshops
Design of AC and DC machine Windings
PPT Topics
Electrical Machines
Power Electronics
High Voltage Engineering
Biomedical Engineering
Bio-signal Processing
Renewable Energy
Event Guests
Er.U.Sarathi
E-Trainers
Event Theme
Save Energy
Departments:
EEE
Accommodation
No accommodation
How to reach Karpagam Academy of Higher Education, Coimbatore
The Karpagam Academy of Higher Education is situated 10 kms from Coimbatore, on the junction of Coimbatore – Pollachi National Highway (NH-83) & Coimbatore Bye-Pass road (NH-544), Tamil Nadu, INDIA.
Related Links:
ELECTTRICO 2K19
Karpagam Academy of Higher Education
Coimbatore
Tamil Nadu
February 2019
Technical Fests
Technical Fests in Tamil Nadu
Technical Fests in Coimbatore
Workshops
Workshops in Tamil Nadu
Workshops in Coimbatore
Technical Symposiums
Symposiums in Tamil Nadu
Symposiums in Coim
---